$66,000
Ch 2004 16.1HH (1.65M)
Street Cry – Blushing Ogygian (Ogygian)
Inc GST Payment on Live Foal (conditions apply). Standing at Northwood Park, VIC
The sire of Champion ANAMOE and of eight further G1 winners. He's sired 66 Stakes winners worldwide and the winners of over $127 million in prize money.
Having covered his highest-quality books in the past two seasons the best is still to come.
A record-breaking sprinter himself and the best-looking son of the phenomenal sire of sires Street Cry.
Best progeny
His winning offspring
Video footage
Watch him go:
see him at his best
Bing Crosby H (G1), 6f, Del Mar, 27 Jul 2008
Triple Bend H (G1), 7f, Hollywood Park, 05 Jul 2008
Los Angeles H (G3), 6f, Hollywood Park, 10 May 2008
Maiden, 6f, Del Mar, 02 Sep 2007
Allowance, 5.5f, Santa Anita, 17 Jan 2008
Allowance, 6.5f, Santa Anita, 06 Mar 2008
Allowance, 6.5f, Santa Anita, 14 Apr 2008
Watch THEM go:
big wins by his offspring
Special insights:
interviews, expert opinion and more
See the full playlist on YouTube
Pedigree
STREET BOSS

STREET CRY

MACHIAVELLIAN

MR PROSPECTOR

RAISE A NATIVE

GOLD DIGGER

COUP DE FOLIE

HALO

RAISE THE STANDARD

HELEN STREET

TROY

PETINGO

LA MILO

WATERWAY

RIVERMAN

BOULEVARD

BLUSHING OGYGIAN

OGYGIAN

DAMASCUS

SWORD DANCER

KERALA

GONFALON

FRANCIS S

GRAND SPLENDOR

FRUHLINGSHOCHZEIT

BLUSHING GROOM

RED GOD

RUNAWAY BRIDE

FRUHLINGSTAG

ORSINI

REVADA
STREET CRY (IRE) (Bay or Brown 1998-Stud 2003). 5 wins-1 at 2-from 1300m to 2000m,
US$4,753,675, 2,013,000Dhs in U.S.A. and U.A.E, Dubai World Cup, G1, Churchill Downs
Stephen Foster H., G1, Sheikh Maktoum bin Rashid al Maktoum Challenge, G2, UAE Two
Thousand Guineas, 2d Saratoga Whitney H., G1, Santa Anita Norfolk S., G2, Del Mar
Futurity, G2, Aqueduct Discovery H., G3, UAE Derby, G3, 3d Breeders' Cup Juvenile, G1.
Champion sire. Sire of 1,536 rnrs, 1,126 wnrs, 134 SW, 73.4% winners, 8.7% Stakes winners
inc. Street Boss, Winx, Zenyatta, Oh Susanna, Street Sense, Shocking, Tomcito, New Year's
Day, Whobegotyou, Long John, Trekking, Pride of Dubai, Seventh Street, Zulu Alpha, Stay
With Me, Lyric of Light, Victor's Cry, Majestic Roi, ETC.
1st dam:
Blushing Ogygian, by Ogygian. 2 wins at 2, 3d Meadowlands Jersey Jumper S., L. Sister to
    Tiny Decision, half-sister to Fruhlingserwachen (dam of FRUHLINGSSTURM). Dam of eight
    named foals, six to race, five winners, inc:-
  STREET BOSS (c by Street Cry) 7 wins. G1 winner. 
  Habiboo (f by Unbridled's Song) 4 wins from 7f to 8½f, US$190,190, Belmont Allowance, 2d
       Belmont First Flight H., G2, 3d Monmouth Oaks, G2. Dam of-
    BELLERA (Bernardini) 4 wins at 8½f, 9f, US$326,698, Aqueduct Comely S., G3, Ladies H.,
        L, 3d Delaware H., G2, Saratoga Summer Colony S., L, Gulfstream Musical Romance S.,
        L.
    LIFE IMITATES ART (More Than Ready) 3 wins-1 at 2-at 7½f, 1m, US$203,720, Gulfstream
        Park Dania Beach S., G3, Tampa Bay Downs Sophomore Turf S., L.
    Quippery. Winner at 6f in U.S.A. Dam of-
          BEYOND BLAME (Blame) 4 wins from 1m to 9f, US$238,630, Churchill Downs Regret
             S., G3, Indiana Grand S., L, 2d Fair Grounds Allen Black Cat Lacombe Memorial S.
  Rushin No Blushin (f by Half Ours) Placed in U.S.A. Dam of-
    JACK CHRISTOPHER (Munnings) 2 wins at 2, US$330,000, in 2021, Belmont Champagne
          S., G1.
2nd dam:
Fruhlingshochzeit, by Blushing Groom. Winner at 1600m, Deauville Prix de Victot, 2d Deauville
      Prix de la Calonne, L, Saint-Cloud Prix Coronation, L, Evry Prix du Lion d'Angers, L, Maisons-
      Laffitte Prix Tantieme, L, Grand Prix de Marseille, L, 3d Longchamp Prix d'Automne, L, 4th
      Saint-Cloud Prix Perth, G3. Half-sister to RUNNING STAG, BERGENIA, BLACKWATER.
      Dam of 16 named foals, 12 to race, 9 winners, inc:-
  Tiny Decision (Ogygian) 3 wins-1 at 2-from 6f to 1m, 3d Lone Star Oaks, L. Dam of-
       Oblivious (Cozzene) 2 wins at 1m, US$92,109, 2d Fort Erie HA Hindmarsh S., L, 3d Woodbine
       Princess Elizabeth S., L, Fort Erie Juvenile S., L. Dam of-
     STREET STORM (Stormy Atlantic) 2 wins-1 at 2-at 6f, 8¼f, US$101,232, Fair Grounds Mardi
         Gras S., L, 3d Fair Grounds Letellier Memorial S., L. Producer.
  Blushing Ogygian (Ogygian) 2 wins. See above.
  Fruhlingserwachen. Winner at 1600m in France. Dam of-
      FRUHLINGSSTURM (Unfuwain) Champion 3YO in Holland in 2003. 6 wins-1 at 2-from 1600m
            to 2400m, £42,707, €78,550 in GB, Germany and Holland, Frankfurt Euro Cup, G2. Sire.
  Fatal Attraction. Winner at 1200m in Germany. Dam of-
      FANTASTICA (Big Shuffle) 5 wins-2 at 2-to 1400m in France and Germany, Baden-Baden
            Flieger Preis, L, Dortmund Preis der DEW 21 BBAG Auktionsrennen. Producer.
      Fantasia. Winner at 1400m in Germany. Dam of-
          FORZA CAPITANO (Captain Marvelous) 4 wins-1 at 2-to 1400m, €136,680, Chantilly Prix
                Ronde de Nuit, L, Prix Anabaa, 3d Maisons-Laffitte Prix de Seine-et-Oise, G3.
Pedigree notes

Street Boss is a consistent sire of stakes winners who is capable of siring the "big horse" all breeders strive for.
In a similar vein to his own outstanding sire Street Cry he was not fully appreciated in his first season and skipped a year on the shuttle. This has resulted in him being underrated right through his career, until the past two years when he received his best books at his highest fees. There will be fireworks to come.
Street Boss sired G1 Newmarket winner The Quarterback in his first Australian crop and it's fair to say that if he had returned for a second successive season and sired another G1 winner he would have been "hot property".
His stats are impressive, EIGHT G1 winners including Champion Anamoe, 63 Stakes winners from 1,222 runners worldwide. That's over 5% Stakes winners to runners from relatively modest opportunities.
On the shuttle, he has left 488 runners, 21 Stakes winners, and THREE G1 winners which is over 4.3% Stakes winners to runners off low fees. But more significantly his best horses are an elite group including not just the G1 winners Anamoe, The Quarterback and Elite Street, but other high-class runners Arcaded (2nd Blue Diamond Prelude), Pericles (2nd Rosehill Guineas), Hanseatic (2nd Blue Diamond) and the highly talented Petits Filous (Quezette Stakes won, 5/10). And there are others.
That's a wonderful rate of elite production off a low fee and with an interrupted career. The next Anamoe could well be in the pipeline.
G1 Statistics
Street Boss has three Australian sired G1 winners who are out of mares by Australia's three leading broodmare sires: Redoute's Choice, Encosta de Lago and Exceed And Excel.
Overall, he has EIGHT G1 winners, all out of mares by different broodmare sires indicating his versatility.
5/8 G1 winners have a return of Mr Prospector in the mare
2/8 G1 winners plus G1 2nd Hanseatic have a return of Danehill in the mare.
Best Nicks
Street Boss has the most Australian Stakes winners out of mares by Exceed And Excel and Lonhro.
His best percentages of Stakes winners to runners with 10 named foals or more are with mares by Lonhro, Testa Rossa, Exceed And Excel, Fastnet Rock, Danehill Dancer and Encosta de Lago among sires whose daughters can easily be found in Australia. They all have at least 10% Stakes winners to runners with Street Boss as sire.
Street Boss definitely has a nick with Exceed And Excel, the mix has 10% Stakes winners to runners including G1 winner Elite Street and the first runner by Exceed And Excel out of a Street Boss mare is this season's G3 Breeders' Plate runner-up Mach Ten.
Street Boss has a very strong nick with returns of his own great grandsire Mr Prospector. An astounding 75% of his Stakes winners have a return of Mr Prospector in the mare including five of his eight G1 winners.
Inbreeding / Linebreeding options
The most obvious candidate for inbreeding to the pedigree of Street Boss is the mare Helen Street who is the dam of Street Cry. Helen Street is proving to be an influential mare, the results of inbreeding to her include include the multiple G1 winner Victor Ludorum, G2 winner and G1-placed Lucida, G3 winner Shocking Luck, G1 Victoria Derby runner-up Southern Moon, the talented Stakes-placed Spirit Of Gaylard and first two starts Caulfield Saturday winner, rising star Cute As, who is by Thronum out of a Street Cry mare.
These early results are encouraging, this is a pattern worth repeating and can be achieved using mares by Shamardal or his sons which include Lope de Vega, Puissance de Lune, Gingerbread Man and Crackerjack King. Or daughters of G1-placed Thronum who is by Snitzel out of a daughter of Helen Street.
Strategy One
Send mares by Exceed And Excel or with him in the pedigree as this is the best nick for Street Boss. Mares by other sons of Danehill such as Redoute's Choice, Fastnet Rock or Danehill Dancer and his son Choisir would be another worthwhile part of this strategy.
Strategy Two
Inbreeding to Helen Street the dam of Street Boss' sire can be achieved using mares by Shamardal and sons, or Lope de Vega and sons, or Thronum. The desired effect can occur with those sires anywhere in the mare's pedigree.
Strategy Three
Returning Mr Prospector has been highly effective for Street Boss. A quick way to find stallions with a presence of Mr Prospector in their makeup is to refer to the five-generation index at the back of STALLIONS 2023. There is also a quick ancestor search on the home page of stallions.com.au.
Strategy Four
Street Boss and his sire Street Cry have both had considerable success with returns of the great sires Zabeel and Seattle Slew in the mare. Sources of Zabeel are readily available via Lonhro and sons. Sources of Seattle Slew are harder to find but include Better Than Ready, Rebel Dane, Super One and Justify whose oldest daughters are just turning three.

Conformation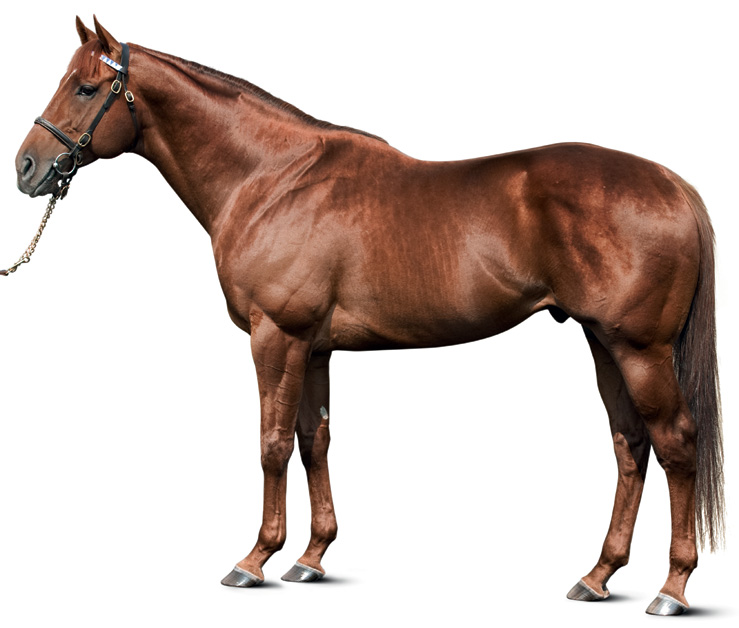 Race record
His successful career
| | | | | | |
| --- | --- | --- | --- | --- | --- |
| Age | Starts | 1st | 2nd | 3rd | Earnings |
| Three | 4 | 1 | 1 | - | US$43,900 |
| Four | 9 | 6 | 2 | 1 | US$787,900 |
| Total | 13 | 7 | 3 | 1 | US$831,800 (A$1,269,701) |
At 3
1st

Maiden Special Weight, 1,200m, Del Mar.
At 4
1st

Bing Crosby H (G1), 1,200m, Del Mar, new course record 1:08.67, beating In Summation, Jungle Prince,Sailors Sunset, Spot The Diplomat, Johnny Eves, Barbecue Eddie.

1st

Triple Bend Invitational H (G1), 1,400m, Hollywood Park, beating Elite Squadron,Tropic Storm, Global Hunter, Desert Code, High Standards.

1st

Los Angeles H (G3), 1,200m, Hollywood Park, new course record 1:07.55, beating Sailors Sunset, High Standards, Bonfante, Barber, Peace Chant, Bilo.

1st

Allowance race, 1,300m, Santa Anita, beating Tropic Storm, Luhuk's Dancer,Silver Stetson Man, One Union.

1st

Allowance race, 1,300m, Santa Anita, beating Carrilero, by 2½l.

1st

Allowance race, 1,100m, Santa Anita, by 5l, equalled course record 1:01.27.

2nd

Ancient Title S (G1), 1,200m, Santa Anita, to Cost Of Freedom, beating In Summation, Delta Storm, Idiot Proof.

3rd

Breeders' Cup Sprint (G1), 1,200m, Santa Anita, to Midnight Lute, Fatal Bullet, beating In Summation, Fabulous Strike, Sing Baby Sing, Black Seventeen, First Defence.
Timeform: 124