$16,500
Ch 2018 16.1HH (1.62M)
Dawn Approach – Chatoyant (Flying Spur)
Inc GST Payment on Live Foal (conditions apply). Standing at Northwood Park, VIC
Proven Speed: Five-time Group winner over sprint trips including the all-important G1 1,200m WFA sprint.
Early Exposure: Two Saturday juvenile wins pre-Christmas at The Valley and Royal Randwick.
Developed in the autumn winning the G3 Kindergarten Stakes by 2 ½ lengths during The Championships.
Quick as a flash: Won the G2 Roman Consul Stakes in a faster time than established sires Exceed And Excel, Fastnet Rock, Zoustar, Brazen Beau and Russian Revolution.
Focus: Raced consistently in the best company for three seasons.
Resolution: Won from on-pace and back in the field.
Pedigree
PAULELE

DAWN APPROACH

NEW APPROACH

GALILEO

SADLER'S WELLS

URBAN SEA

PARK EXPRESS

AHONOORA

MATCHER

HYMN OF THE DAWN

PHONE TRICK

CLEVER TRICK

OVER THE PHONE

COLONIAL DEBUT

PLEASANT COLONY

KITTIHAWK MISS

CHATOYANT

FLYING SPUR

DANEHILL

DANZIG

RAZYANA

ROLLS

MR. PROSPECTOR

GRAND LUXE

DECIDITY 

LAST TYCOON

TRY MY BEST

MILL PRINCESS

CLASS

TWIG MOSS

PIROUETTE
By DAWN APPROACH (2010) 2,000 Guineas (G1), St James's Palace S (G1), Dewhurst S (G1), National S (G1), Coventry S (G2), etc. Sire of 804 foals aged three and up, including PAULELE, POETIC FLARE, DAWN PATROL, MADHMOON, MUSIS AMICA, DAWN PASSAGE, MARY TUDOR, GEORGEVILLE, MAJESTIC DAWN, DARIYZA, DADOOZDART, DIAMOND THUNDER, HADDAF, LUNAR SPACE, SECOND GENERATION, TAHITIAN DANCER, WINNING PARTNER, etc.
1st dam: CHATOYANT by Flying Spur. 4 wins (1000m-1100m) at 3 and 4. Dam of 11 foals, 8 to race, 7 winners:
PAULELE (c Dawn Approach) G1 winner, see Race record.
TESSERA (g Medaglia d'Oro) 3 wins (1100m-1200m) at 2 to 7, Canonbury S (G3), 2nd Starlight Express Room S, 3rd Gold Coast Guineas (G3).
MONTSEGUR (f New Approach) 2 wins (1000m-1200m) at 2, Thoroughbred Breeders S (G3), 2nd Blue Diamond Prelude (f) (G3), 3rd Silver Shadow S (G2). Dam of:
CORNICHE (c Fastnet Rock) Skyline S (G2), 2nd Blue Diamond Preview (c&g), 3rd Blue Diamond Prelude (c&g) (G3).
HERESY (f Street Boss) David Coles AM S (G3), PJ Bell S (G3), 2nd Thousand Guineas Prelude (G2), Quezette S (G3), 3rd Nivison S (G3), HDF McNeil S (G3).
CHIAROSCURO (g Lonhro) 5 wins (1100m-1250m) at 3 to 6.
BEGIN (g Dawn Approach) 5 wins (900m-1000m) at 4 to 6.
KYANITE (g Shooting to Win) 2 wins (1100m-1250m) at 4.
SLEEK BEAUTY (f Elusive Quality) Winner (1000m) at 3.
2nd dam: DECIDITY by Last Tycoon. 2 wins (1400m-1600m). Dam of 7 winners:
BONARIA (f Redoute's Choice) 8 wins at 2 to 6, Myer Classic (G1), Mannerism S (G3), Schweppervescence Trophy (G3), twice, 2nd Blazer S (G2), Geoffrey Bellmaine S (G3), Ladies Day Vase (G3).
LEGALLY BAY (f Snippets) 3 wins at 2 and 3, Sweet Embrace S (G3), 2nd Silver Shadow S (G2), TJ Smith S (G2), 3rd Australia S (G1), Oakleigh Plate (G1), Champagne S (G2), Silver Slipper S (G2). Dam of:
MERCHANT NAVY (c Fastnet Rock) Coolmore Stud S (G1), Diamond Jubilee S (G1), Greenlands S (G2), 3rd Newmarket H (G1). Sire.
JOLIE BAY (f Fastnet Rock) Roman Consul S (G2), 2nd Coolmore Stud S (G1). Dam of: God of Thunder (g More Than Ready) 2nd Caulfield Sprint H (G2); Emperor (c I Am Invincible) 3rd Breeders' Plate (G3).
SETANTA (g Fastnet Rock) Queensland Day Plate.
MAROON BAY (f Exceed and Excel) 2 wins at 3 and 4. Dam of: EBHAAR (f I Am Invincible) Merson Cooper S; Shotmaker (g Shooting to Win) 2nd Blue Diamond Prelude (c&g) (G3).
Bayrock (f Fastnet Rock) Placed at 2. Dam of: HINDAAM (f Savabeel) Twilight Glow S.
TIME OUT (g Rory's Jester) 6 wins at 2 to 7, Illawarra 2YO Classic (G3).
Exhibit (f Octagonal) Unraced. Dam of:
Light Touch (f Charge Forward) 2nd Dequetteville S.
3rd dam: Class by Twig Moss. Dam of 3 winners:
CLASSY FELLA (g Kenmare) Gloaming S (G2), Kingston Town S (G3), Fernhill H, 3rd Hawkesbury Gold Cup (G3).
Stud record
Paulele stands his first season in 2023.
Pedigree notes
Paulele is the epitome of the ideal Australian commercial sire, a brilliantly fast two-year-old, a quality G1 winner with natural early pace who was still able to unleash a devastating turn of foot from near the leaders to put many elite sprinters and G1 winners away in a couple of strides.
His brilliant speed saw him win at his first two-year-old start over 1,000m, going on to become a G1 runner-up over 1,300m as a three-year-old, then G1 glory as a four-year-old over 1,200m where a bad barrier saw him display his adaptability by having to forego his usual on-pace pattern to come from last with a paralysing sprint to score.
On-pace racing style and fast acceleration are two of the key attributes for sire success - Paulele has both.
G1 Statistics
Paulele's sire Dawn Approach has sired two G1 winners (including Paulele himself) and both are out of Danehill-line mares, which might still suit him particularly if Danehill occurs in the fourth or fifth generation of the visiting mare's ancestry.
Best Nicks
Paulele's sire and grandsire have produced Stakes winners out of mares by Street Cry, Iffraaj, King's Best and Machiavellian all from the Mr Prospector line.
They have also sired Stakes winners out of mares by Lonhro (Sir Tristram line), Red Ransom (Roberto line) and Johannesburg (Storm Cat line) making mares from those sire lines desirable for Paulele.
Inbreeding / Linebreeding options
Paulele is entirely free of Encosta de Lago, More Than Ready, Sir Tristram and Roberto blood, all of which have yielded very positive outcomes when crossed with the Sadler's Wells and Danehill lines which dominate his pedigree.
Strategy One
Inbreeding to the mare Rolls (Mr Prospector – Grand Luxe by Sir Ivor) has been very successful resulting in G1 winners Alligator Blood, Fangirl, Mascarpone, Mizzy, Delago Deluxe, Speak Fondly as well as high-class gallopers Aethero, The Astrologist, Buenos Noches and Sejardan.
Paulele's dam is by Flying Spur, whose dam is Rolls, so sending him mares by champion broodmare sire Encosta de Lago, whose dam is a daughter of Rolls, will provide this inbreeding.
Strategy Two
Paulele's dam is by Flying Spur who has developed a very strong nick with More Than Ready. This cross is responsible for Golden Slipper winner and successful sire Sebring plus G1 winners Wellington and Forbidden Love.
Mares by More Than Ready or his son Better Than Ready appeal as ideal mates for Paulele.
Mares by Sebring and sons might also suit giving inbreeding to Flying Spur which has produced three Stakes winners to date.
Strategy Three
Paulele's second dam is by Last Tycoon whose sire is from the family of influential mare Best In Show. Champion sire Redoute's Choice has his best results out of Last Tycoon mares, all the progeny being inbred to Best In Show who is Redoute's Choice's fourth dam. There are 11 G1 winners bred on this cross including Espiona, Incentivise, Shout The Bar, Dariana and Bonaria who is from Paulele's own family descended from the imported mare Gypsy Moss. Inbreeding to this Gypsy Moss can be achieved with mares whose ancestry includes Merchant Navy, Ideal Planet, Gypsy Kingdom or Our Planet.
Further sources of Best In Show can be found in mares by Manhattan Rain (who also contributes Encosta de Lago), Rubick, Casino Prince, Cluster, Headwater, Snitzel, Not A Single Doubt and Wandjina.
Strategy Four
Paulele's pedigree has multiple lines of Northern Dancer but only a single of Mr Prospector via his daughter Rolls. Sending Mr Prospector-line mares could prove a worthwhile option.
Machiavellian and Street Cry-line mares are obvious choices as they have already provided Stakes winners with Paulele's sire and grandsire.
Summary
Paulele's pedigree features the dominant sires Galileo and Danehill, but is noticeably lacking the Halo, Roberto and Sir Tristram lines which are generally very complementary. This is particularly applicable when combined with inbreeding to the key mares in his pedigree such as Rolls and Best In Show.
Mares from the successful broodmare sire lines of Mr Prospector and Encosta de Lago have also previously worked well with the dominant sires and mares in Paulele's pedigree.
Conformation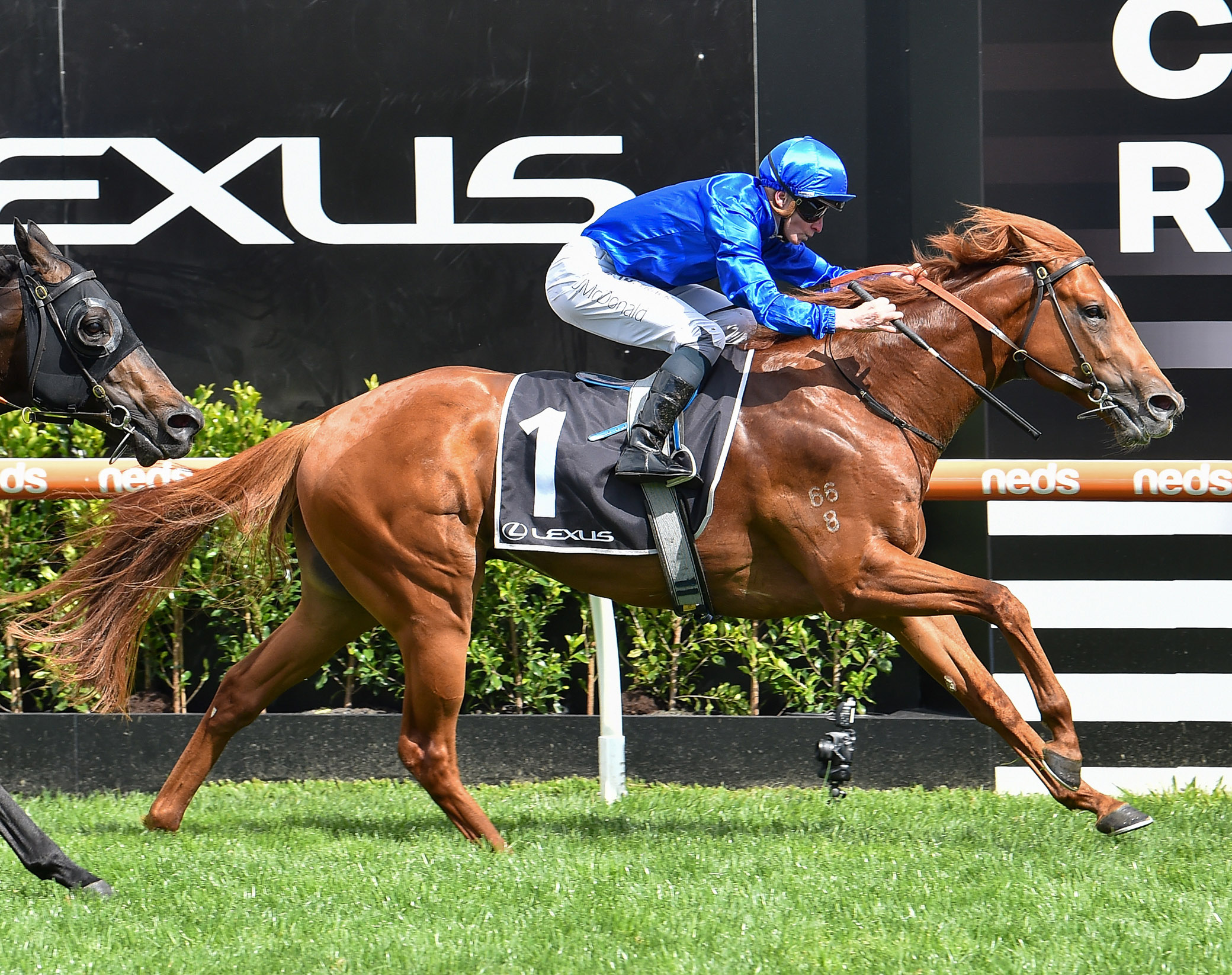 Race record
His successful career
| | | | | | |
| --- | --- | --- | --- | --- | --- |
| Age | Starts | 1st | 2nd | 3rd | Earnings |
| Two | 5 | 3 | - | - | A$267,600 |
| Three | 11 | 3 | 4 | 2 | A$1,066,600 |
| Four | 8 | 2 | - | - | A$1,090,100 |
| Total | 24 | 8 | 4 | 2 | A$2,424,300 |
At 2
1st

Kindergarten S (G3), 1100m, Randwick, by 2½l, beating Anagain, King Of Sparta, Subterranean.

1st

Handicap, 1200m, Randwick on 19 December, beating The Art Of Flying, Coastwatch.

1st

Maiden race, 1000m, Moonee Valley on 28 November, by 2l, beating Direct, Prince Alex, Pounding.
At 3
1st

Roman Consul S (G2), 1200m, Randwick, beating King Of Sparta, Overpass, Sword Of State, O'Liner.

1st

Eskimo Prince S (G3), 1200m, Randwick, beating Ranch Hand, Converge, Hilal, Captivant, Miss Sum, Subterranean, Royalzel, Giannis.

1st

Rosebud H, 1100m, Randwick, by 2½l, beating In The Congo, Mazu, Sky Command.

2nd

Doomben 10,000 (G1), 1200m, Eagle Farm, by a short-head, to Mazu, beating Entriviere, Signore Fox, Rothfire, Isotope, Baller, Zoustyle, Generation, Kementari, Count de Rupee, Minhaaj, Vega One.

2nd

Kingsford-Smith Cup (G1), 1300m, Eagle Farm, by a head, to Apache Chase, beating Eleven Eleven, Rothfire, September Run, Brooklyn Hustle, Private Eye, Away Game, Entriviere, Laws Of Indices, Ellsberg, Signore Fox, Olmedo, Wild Planet.

2nd

San Domenico S (G3), 1100m, Kembla Grange, by a neck, to In The Congo, beating Captivant, Stay Inside, Mazu.

2nd

Heritage S, 1100m, Rosehill, to Home Affairs, beating King Of Sparta, Sword Of State, Overpass.

3rd

TJ Smith S (G1), 1200m, Randwick, to Nature Strip, Eduardo, beating Belluci Babe, Overpass, Zoutori, Shelby Sixtysix, Masked Crusader, Roch 'N' Horse.

3rd

Arrowfield 3YO Sprint S (G2), 1200m, Randwick, to Mazu, In The Congo.
At 4
1st

Winterbottom S (G1), 1200m, Ascot, beating Kissonallforcheeks, This'll Testya, Rothfire, Elite Street, Beau Rossa, The Astrologist, My Bella Mae, Red Can Man, Miss Conteki, Massimo.

1st

Schillaci S (G2), 1100m, Caulfield, beating Ingratiating, Zoustyle, General Beau, Queen Of The Ball, In The Boat, Shelby Sixtysix.
Timeform 121
Video footage
Watch him go:
see him at his best
Winterbottom S (G1), 1200m, Ascot, 26 Nov 2022
Schillaci S (G2), 1100m, Caulfield, 08 Oct 2022
Roman Consul S (G2), 1200m, Randwick, 09 Oct 2021
Eskimo Prince S (G3), 1200m, Randwick, 05 Feb 2022
Kindergarten S (G3), 1100m, Randwick, 10 Apr 2021
Rosebud H, 1100m, Randwick, 07 Aug 2021
Maiden race, 1000m, Moonee Valley, 28 Nov 2020