$55,000
B 2017 16.0HH (1.62M)
Shamardal – Lava Flow (Dalakhani)
Inc GST Payment on Live Foal (conditions apply). Standing at Kelvinside, NSW
Horse of the Year and a sensational 134-rated unbeaten Champion Two-Year-Old — the best of his generation. Six unchallenged victories as a two-year-old, twice at G1 level. His G1 National Stakes win was described as the defining two-year-old performance of our time.
A three-time G1 winner with unbeatable stallion credentials: by the great Shamardal and the best from the family of Invincible Spirit, Kodiac and Pride Of Dubai.
Fully booked in his first two Australian seasons with an outstanding book of mares.
"He was mentally very laidback but physically very strong. I can see how Pinatubo will fit into the Australian industry. He had an abundance of natural speed, as well as the strength to be a precocious two-year-old."
- Champion Trainer, Charlie Appleby
Pedigree
PINATUBO

SHAMARDAL

GIANT'S CAUSEWAY

STORM CAT

STORM BIRD

TERLINGUA

MARIAH'S STORM

RAHY

IMMENSE

HELSINKI

MACHIAVELLIAN

MR PROSPECTOR

COUP DE FOLIE

HELEN STREET

TROY

WATERWAY

LAVA FLOW

DALAKHANI

DARSHAAN

SHIRLEY HEIGHTS

DELSY

DALTAWA

MISWAKI

DAMANA

MOUNT ELBRUS

BARATHEA

SADLER'S WELLS

BROCADE

EL JAZIRAH

KRIS

ELJAZZI
SHAMARDAL (USA) (Bay 2002-Stud 2005).  6 wins-3 at 2, from 1200m to 2100m, Chantilly Prix
du Jockey Club, G1, Longchamp Poule d'Essai des Poulains, G1, Newmarket Dewhurst S., G1,
York St James's Palace S., G1, Goodwood Vintage S., G2. Champion sire. Sire of 1,425 rnrs,
1,060 wnrs, 166 SW, 74.4% winners, 11.6% Stakes winners inc. Pinatubo, Blue Point, Lope de
Vega, Victor Ludorum, Earthlight, Tarnawa, Pakistan Star, Able Friend, Speedy Boarding, Faint
Perfume, Amaron, Zazou, Crackerjack King, Lumiere, Dariyan, Dunboyne Express - Dan Excel
(H.K.), Baltic Baroness, etc.
1st dam:
LAVA FLOW, by Dalakhani. 2 wins at 1950m, 2200m, Longchamp Prix de la Seine, L, Prix
      de la Flandrie. Broodmare of the Year in Ireland in 2019. Half-sister to Strobilus. Dam of
      7 named foals, 5 to race, all winners, inc:-
  PINATUBO (c Shamardal). Champion See race record.
  SUNDORO (f Sea the Stars) 4 wins at 2000m, €146,320, to 2022, Grand Prix de Marseille,
         L, Le Lion-d'Angers Prix Haras du Lion, L, Deauville Prix Casino Barriere Trouville, 2d
         Chantilly Prix Bertrand de Tarragon, G3, Grand Prix de Vichy, G3, Saint-Cloud Prix
         Providencial, 3d Deauville Prix Lyphard, L, Compiegne Prix Charles Laffitte, L.
  Al Mureib (g Dubawi) Winner at 1900m in 2020-21 in U.A.E, 2d Goodwood Jim Barry H.
2nd dam:
MOUNT ELBRUS, by Barathea. 3 wins from 1900m to 2600m in GB and France, Saint-Cloud
      Prix Petite Etoile, L. Half-sister to Fringe (dam of MASTER CARPENTER). Dam of 13
      named foals, 12 to race, 9 winners, inc:-
  LAVA FLOW (f Dalakhani) 2 wins. See above.
  Strobilus (g Mark of Esteem) 2 wins at 2, Haydock 2YO S., 2d Milan Gran Criterium, G1.
3rd dam
EL JAZIRAH, by Kris. Unraced. Sister to RAFHA (dam of INVINCIBLE SPIRIT, ACTS OF
     GRACE, SADIAN, MASSARRA), half-sister to CHIANG MAI (dam of CHINESE WHITE).
     Dam of 7 foals, all raced, 5 winners, inc:-
  MOUNT ELBRUS (f Barathea) 3 wins. See above.
  Fringe. Winner at 1¼m in GB, 4th Saint-Cloud Prix Petite Etoile, L. Dam of-
    MASTER CARPENTER (c Mastercraftsman) 7 wins-2 at 2-from 1000m to 2100m, £237,441,
          €53,650, Chantilly Prix Daphnis, G3, 3d Maisons-Laffitte Prix Eugene Adam, G2.
4th dam:
ELJAZZI, by Artaius. Winner at 2 in GB. Half-sister to VALLEY FORGE, PITCAIRN, Dingle Bay
    (dam of ASSESSOR). Dam of 15 foals, 13 to race, 10 winners, inc:-
  RAFHA (f Kris) 5 wins-2 at 2-from 1200m to 2300m, £45,977, 1,400,000fr., Chantilly Prix de
       Diane, G1, Doncaster May Hill S., G3, Epsom Princess Elizabeth S., L. Dam of-
    INVINCIBLE SPIRIT (c Green Desert) Joint Champion Older Male Sprinter in Ireland in 2001.
          7 wins-2 at 2-at 6f, Haydock Sprint Cup, G1, York Duke of York S., G3, Curragh MacDonagh
          Boland S., G3, Newbury Hackwood S., L. Successful sire.
    SADIAN (c Shirley Heights) 7 wins-1 at 2-from 7½f to 1¾m, £122,460 in GB and Saudi Arabia,
          Newbury John Porter S., G3, Chester Ormonde S., G3. Sire.
  ACTS OF GRACE (f Bahri) 3 wins to 2400m, Ascot Princess Royal S., G3, Dam of-
    Contradict. Winner at 1¼m, 4th Goodwood Height of Fashion S., L. Dam of-
       MISHRIFF (c Make Believe) Joint Champion 3YO in Europe in 2020 (Int.). Champion 3YO in
            France & GB in 2020 . 7 wins-1 at 2-from 1650m to 2400m to 2020-21, Chantilly Prix du
            Jockey Club, G1, York International S., G1, Meydan Dubai Sheema Classic, G1, 2d Ascot
            King George VI & Queen Elizabeth S., G1, 3d Sandown Eclipse S., G1.
Stud record
Pinatubo's first crop are foals of 2023.
Pedigree notes
Pinatubo was an undefeated Champion Two-Year-Old whose juvenile annual Timeform rating of 134 was higher than those of Danehill (100 p), Frankel (133 p) and Star Kingdom (131 *). G1-winning form as both a two-year-old and three-year-old is a key requirement for sire success, Pinatubo is a stallion who met those criteria. His form profile of a brilliant sprinter who was placed third in the 1600m G1 English 2000 Guineas mirrors that of legendary sire Danehill.
Elite two-year-olds have a fine record of success in Australia with prime examples being Star Kingdom, Danehill, Exceed And Excel, Redoute's Choice, Snitzel, Zoustar and I Am Invincible.
Pinatubo's sire Shamardal and his son Lope de Vega have clearly demonstrated that this sire line is well-suited to Australian conditions. As an added bonus, Pinatubo's fourth dam Eljaazi also has Pride Of Dubai and Invincible Spirit, sire of I Am Invincible, descended directly from her.
G1 Statistics
Shamardal has sired 27 G1 winners worldwide, including five in Australia. All five in Australia and 14/27 have a return of Sir Gaylord or his half-brother in the mare. The Sir Gaylord sire line is prolific in Australia via Sir Tristram/Zabeel/Octagonal/Lonhro/Pierro/Savabeel, etc.
Shamardal's son Lope de Vega has sired two of his four Australian G1 winners from just 14 runners out of mares by Danehill's son Fastnet Rock.
Best Nicks
Shamardal's most successful nicking stats are with mares from the major broodmare sire lines of Mr Prospector, Sadler's Wells and Danehill.
Lope de Vega has similarly good results with mares from those broodmare sire lines. Shamardal is a grandson of Storm Cat and the Storm Cat/Mr Prospector crosses and reverse crosses have been some of the most successful in contemporary pedigrees.
Inbreeding / Linebreeding options
The key names in Pinatubo's pedigree are those of Shamardal's second dam Helen Street, while in his dam line we find Darshaan, Miswaki, Sadler's Wells and the mare Eljaazi which all provide opportunities for compatible matings.
Strategy One
Inbreeding to Helen Street has already produced Darley's undefeated two-year-old Victor Ludorum and can be achieved using mares by sires such as Street Cry, Street Boss, Pride Of Dubai, Hallowed Crown or Territories, or with mares whose dam or second dam is by any of those sires. The Street Cry lines also provide the successful Shamardal/Mr Prospector nick.
Strategy Two
Pinatubo's second dam is by Barathea (by Sadler's Wells) and inbreeding to the mare Special by returning Nureyev is one of the most successful combinations in modern pedigrees. Zabeel and his sire descendants such as Lonhro, Pierro and Savabeel not only provide the favourable inbreeding to Special but also to the Sir Gaylord sire line as outlined in the G1 statistics.
Strategy Three
Pinatubo's fourth dam Eljaazi is also the second dam of Pride Of Dubai and the third dam of Invincible spirit (sire of I Am Invincible) offering inbreeding opportunities to mares by those sires. Pride Of Dubai is by Street Cry who is a full brother to Shamardal's dam, so mares by that young sire provide inbreeding to both Helen Street and Eljaazi.
Strategy Four
Daughters of Fastnet Rock have produced two of the four Australian G1 winners by Shamardal's son Lope de Vega. Mares by Fastnet Rock, his sons, or from his Danehill sire line are worthwhile options.
Footnote: p and * in basic terms mean possible improver.
Conformation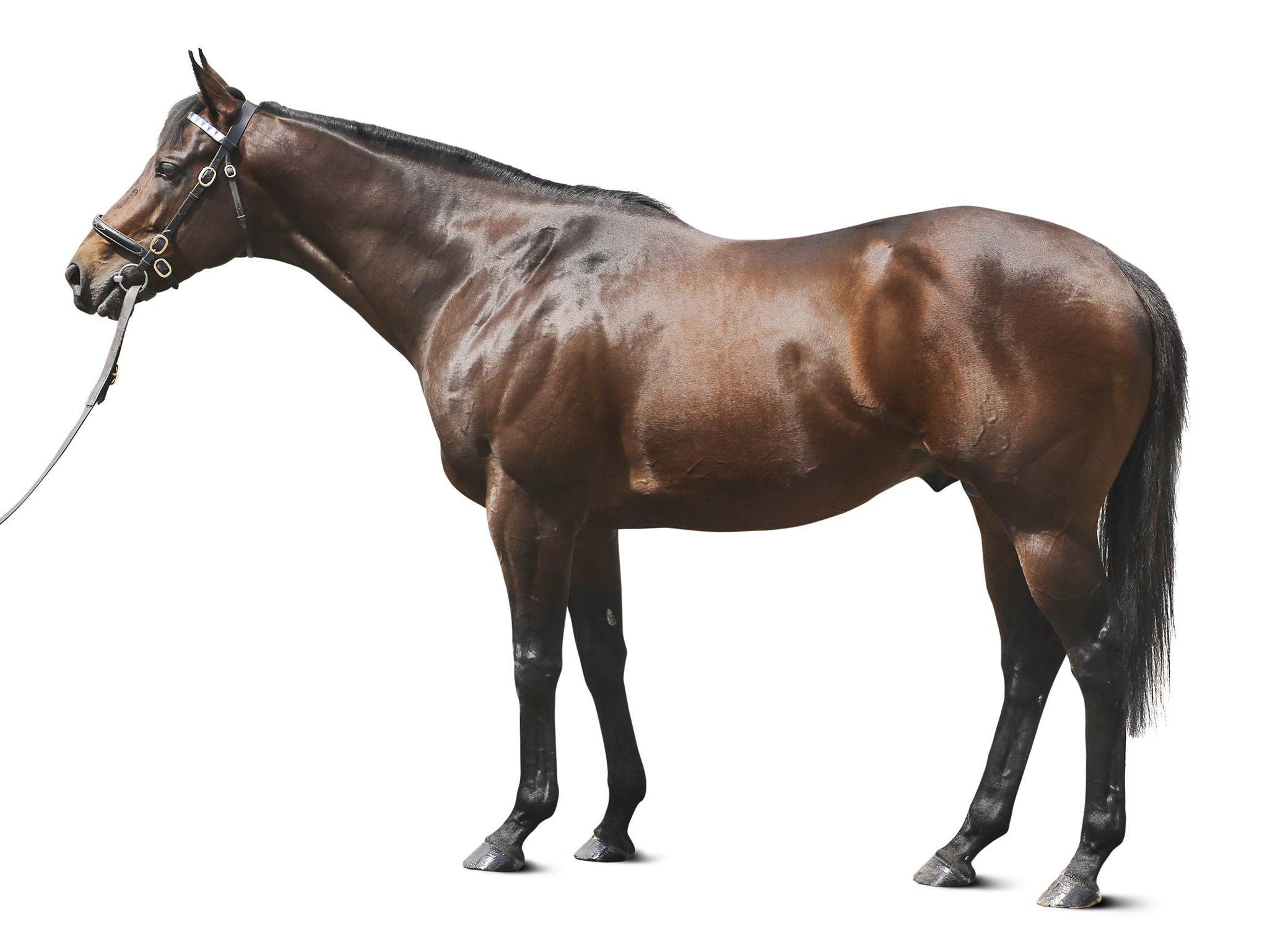 Race record
His successful career
| | | | | | |
| --- | --- | --- | --- | --- | --- |
| Age | Starts | 1st | 2nd | 3rd | Earnings |
| Two | 6 | 6 | - | - | £712,682 |
| Three | 4 | 1 | 2 | 1 | £260,572 |
| Total | 10 | 7 | 2 | 1 | £973,254 (A$1,890,188) |
At 2 Champion Two-Year-Old Colt in Europe
1st

Dewhurst S (G1), 1400m, Newmarket, by 2l, beating Arizona, Wichita, Year Of The Tiger, Monarch Of Egypt, Positive, Mystery Power.

1st

Vincent O'Brien National S (G1), 1400m, Curragh, by 9l, beating Armory, Arizona, Iberia, Geometrical, Roman Turbo, Toronto.

1st

Vintage S (G2), 1400m, Goodwood, by 5l, beating Positive, Lope Y Fernandez, Visinari, Platinum Star, Mystery Power, Milltown Star.

1st

Chesham S, 1400m, Royal Ascot, by 3¼l, new juvenile course record 1:25.73, beating Lope Y Fernandez, Highland Chief, Sun Power, Harpocrates, Year Of The Tiger, Rose Of Kildare, Ardenlee Star.

1st

Woodcote S, 1200m, Epsom, by 1½l, beating Oh Purple Reign, Misty Grey.

1st

Maiden race, 1200m, Wolverhampton, by 3¼l, beating Platinum Star.
At 3
1st

Prix Jean Prat (G1), 1400m, Deauville, beating Lope Y Fernandez, Malotru, Wooded, Molatham, Kenway, Arizona, Well Of Wisdom, Alson, Tropbeau.

2nd

St James's Palace S (G1), 1600m, Royal Ascot, to Palace Pier, beating Wichita, Positive, Threat, Arizona, Royal Dornoch.

2nd

Prix du Moulin de Longchamp (G1), 1600m, Longchamp, to Persian King, beating Circus Maximus, Siskin, Victor Ludorum, Romanised.

3rd

2,000 Guineas (G1), 1600m, Newmarket, to Kameko, Wichita, beating Military March, Juan Elcano, New World Tapestry, Kenzai Warrior, Royal Dornoch, Arizona, Persuasion, Al Suhail.
Timeform 134
Video footage
Watch him go:
see him at his best
Dewhurst S (G1), 7f, Newmarket, 12 Oct 2019
National S (G1), 7f, Curragh, 15 Sep 2019
Prix Jean Prat (G1), 7f, Deauville, 12 Jul 2020
Vintage S (G2), 7f, Goodwood, 30 Jul 2019
Chesham S, 7f, Royal Ascot, 22 Jun 2019
Woodcote S, 6f, Epsom, 31 May 2019
Maiden race, 6f, Wolverhampton, 10 May 2019
Prix du Moulin de Longchamp (G1), 8f, Longchamp, 06 Sep 2020
Special insights:
interviews, expert opinion and more
See the full playlist on YouTube