$44,000
B 2016 16.0½HH (1.63M)
Dubawi – Dar Re Mi (Singspiel)
Inc GST Payment on Live Foal (conditions apply). Standing at Kelvinside, NSW
A G1 champion with a champion's pedigree. By a G1 winner out of a G1 winner just like, Dubawi, Galileo, Sea The Stars, Deep Impact, Kingman and Street Cry.
"One of the all-time best bets for sire success." – Bill Oppenheim, Stallion Spectator Ratings.
In the northern hemisphere: The leading first-crop sire of all time by Group winners – led by G1 winner Fallen Angel and G2 winner Darnation.
In the southern hemisphere: first-crop yearlings sold for $1 million, NZ$750,000, $600,000, $550,000, $500,000, etc. All told, his first-crop yearlings averaged $210,000, over five times his service fee.
Fully booked in his first three seasons at stud with continuing support from Australia's best breeders ensuring he has every opportunity to go to the very top.
Champion Two and Three-Year-Old from a breed-shaping family.
Best progeny
His winning offspring
Video footage
Watch him go:
see him at his best
Dewhurst S (G1), 7f, Newmarket, 13 Oct 2018
Sussex S (G1), 8f, Goodwood, 31 Jul 2019
Prix Jean Prat (G1), 7f, Deauville, 07 Jul 2019
Champagne S (G2), 7f, Doncaster, 15 Sep 2018
Solario S (G3), 7f, Sandown Park, 01 Sep 2018
Maiden race, 8f, Sandown Park, 09 Aug 2018
Irish 2,000 Guineas (G1), 8f, Curragh, 25 May 2019
Watch THEM go:
big wins by his offspring
Special insights:
interviews, expert opinion and more
See the full playlist on YouTube
Pedigree
TOO DARN HOT

DUBAWI

DUBAI MILLENNIUM

SEEKING THE GOLD

MR PROSPECTOR

CON GAME

COLORADO DANCER

SHAREEF DANCER

FALL ASPEN

ZOMARADAH

DEPLOY

SHIRLEY HEIGHTS

SLIGHTLY DANGEROUS

JAWAHER

DANCING BRAVE

HIGH TERN

DAR RE MI

SINGSPIEL

IN THE WINGS

SADLER'S WELLS

HIGH HAWK

GLORIOUS SONG

HALO

BALLADE

DARARA

TOP VILLE

HIGH TOP

SEGA VILLE

DELSY

ABDOS

KELTY
DUBAWI (IRE) (Bay 2002-Stud 2006). 5 wins-3 at 2-from 1200m to 1600m, £217,532, €744,469,
Deauville Prix Jacques Le Marois, G1, Curragh National S., G1, Irish Two Thousand Guineas, 
G1, Newmarket Superlative S., G3, 2d Newmarket Queen Elizabeth II S., G1, 3d The Derby, G1.
Champion sire. Sire of 1,616 rnrs, 1,231 wnrs, 261 SW, 76.2% winners, 16.15% Stakes winners
inc. Too Darn Hot, Ghaiyyath, Postponed, Space Blues, Prince Bishop, Makfi, Time Test, New
Bay, Akeed Mofeed, Yibir, Modern Games, Arabian Queen, Monterosso, Al Kazeem, Benbatl,
Luck or Design - Lucky Nine (H.K.), Old Persian, Coronet, Wuheida, Bateel, Journey, Red
Dubawi, Nezwaah, etc.
1st dam:
DAR RE MI, by Singspiel. Champion Older Female in GB in 2009 (11f-14f). 6 wins from
        2000m to 2500m, in GB, Ireland, France and U.A.E, Curragh Pretty Polly S., G1,
        Yorkshire Oaks, G1, Meydan Dubai Sheema Classic S., G1, Deauville Prix Minerve,
        G3, Newmarket Aphrodite S., L, 2d Longchamp Prix Vermeille, G1, Yorkshire Oaks,
        G1, York Middleton S., G3, 3d Breeders' Cup Turf, G1, Longchamp Prix de Royallieu,
        G2, Saint-Cloud Prix de Malleret, G2, York Musidora S., G3, 4th Sandown Eclipse S.,
        G1. Half-sister to DIAGHILEV, DARAZARI, REWILDING, DARIYOUN. Dam of 9
        named foals, 8 to race, 7 winners, inc:-
  TOO DARN HOT (c Dubawi) 6 wins. Champion. See race record.
  LAH TI DAR (f Dubawi) 4 wins from 1¼m to 11¾f, £420,514, €82,835, York Middleton
          S., G2, Galtres S., L, Newmarket Pretty Polly S., L, Newbury BJP Fillies' S., 2d The
          St Leger, G1, 3d Ascot British Champions Fillies & Mares S., G1, Yorkshire Oaks,
          G1, Grand Prix de Saint-Cloud, G1, 4th ParisLongchamp Prix Royal Oak, G1, Prix
          de Royallieu, G1.
  SO MI DAR (f Dubawi) 4 wins-1 at 2-from 8¼f to 10½f, £129,827, €52,870, York
          Musidora S., G3, Yarmouth John Musker S., L, 3d Chantilly Prix de l'Opera, G1.
  De Treville (c Oasis Dream) 2 wins-1 at 2-at 1400m, 1950m, 96,500, € US$690,
          Longchamp Prix du Grand Palais, Chantilly Prix Vaublanc, 2d Chantilly Prix de
          Guiche, G3, Longchamp Prix des Chenes, G3, Prix de la Porte Maillot, Gr.3,
          Chantilly Prix de la Piste Rodosto, 3d Chantilly Prix Paul de Moussac, G3. Sire.
  Darmoiselle (f Dubawi (Ire)) Winner at 10¼f in 2022, 2d Lingfield River Eden S., L.
  Darain (c Dubawi (Ire)) 3 wins at 8½f, 1¼m in GB and U.S.A.
  Darlectable You (f Dubawi (Ire)) Winner at 1¼m in 2022 in GB.
2nd dam:
DARARA, by Top Ville. Joint second top filly on The 1986 European 3YO Classification. 3 wins
        at 2000m, 2400m, 1,093,950fr., Longchamp Prix Vermeille, G1, Deauville Prix de Psyche,
        G3, 2d Evry Prix Joubert, L. half-sister to DARSHAAN, DALARA (dam of DALIAPOUR,
        DALAMPOUR), DARAYDAN. Dam of 12 foals, 11 to race, 10 winners, inc:-
   DIAGHILEV - RIVER DANCER (H.K.) (g Sadler's Wells) Champion Older Male in Hong Kong in
          2003-04. 4 wins from 1800m to 2000m, €44,730, 40,000f, HK$16,467,000, HKJC Audemars
          Piguet Queen Elizabeth II Cup, G1, Chantilly Prix La Force, G3, 2d HKJC International Cup
          Trial, L, Hong Kong Champions & Chater Cup, L, 4th HKJC Queen Elizabeth II Cup, G1.
  DAR RE MI (f Singspiel) 6 wins. See above.
  REWILDING (c Tiger Hill) Champion Older Horse in UAE in 2011 (Long). 5 wins-1 at 2-from
         1600m to 2400m, £485,866, €50,400, 11,040,000Dhs in GB, France and U.A.E, Royal
         Ascot Prince of Wales's S., G1, Meydan Dubai Sheema Classic S., G1, York Great
         Voltigeur S., G2, Goodwood Cocked Hat S., L, 2d Longchamp Prix Noailles, G2, 3d
         The Derby, G1.
  DARAZARI (c Sadler's Wells) 3 wins from 2000m to 2500m, 821,600f, A$407,430,
         HK$1,430,000, STC Ranvet S., G1, Maisons-Laffitte Prix Maurice de Nieuil, G2, 2d
         VRC Craiglee S., G2, Longchamp Prix Niel, G2, Hong Kong International Vase, G2,
        3d AJC Chipping Norton S., G1, Grand Prix de Chantilly, G2, 4th Grand Prix de Saint-
        Cloud, G1. Sire.
  DARIYOUN (c Shahrastani) 7 wins from 2200m to 2800m in France and Spain, Longchamp
         Prix Lord Seymour, L, Prix de Lutece, G3, 3d Longchamp Prix du Cadran, G1. Sire.
  Dararita. Winner at 2500m in France. Dam of-
      DARASIM (g Kahyasi) Champion Older Male Stayer in Germany in 2004. 11 wins from
           2400m to 3400m, £244,931, €154,610 in GB, Ireland, France and Germany,
           Goodwood Cup, G2, Deauville Prix Kergorlay, G2, Longchamp Prix Gladiateur,
           G3, 3d Royal Ascot Gold Cup, G1.
Stud record
Too Darn Hot's first crop are two-year-olds of 2023.
Pedigree notes
Too Darn Hot is an undefeated Champion Two-Year-Old from the most successful branch of the Mr Prospector sire line and more significantly one proven under Australian conditions. Street Cry demonstrated the suitability of the Mr Prospector line here, winning the General Sires' title in 2015/16 and leaving an everlasting legacy in the incomparable Winx.
Dubawi broke the ice for Mr Prospector by winning the British General Sires' title in 2022. Dubawi shuttled to Australia for three seasons and didn't get the support his subsequent achievements show he deserved. Despite this his results in Australia were truly outstanding.
Dubawi sired 188 runners, 149 winners (79% winners to runners), 22 Stakes winners (11.7% Stakes winners to runners) and SIX G1 winners which were 3.2% of his runners and 27.27% of the Stakes winners. These are industry-leading stats, particularly for a stallion who had a big fee drop in his third and final year on the shuttle.
Dubawi has gone on to become one of the best sires in thoroughbred history, having clearly demonstrated just how well his stock are suited to Australian racing.
His multiple Champion son Too Darn Hot is one of the best-credentialled stallion prospects ever to visit our shores. Apart from his proven sire line Too Darn Hot offers breeders elite performance in his immediate ancestry to a degree rarely matched. Both his parents and all four of his grandparents were G1 winners.
Leading sires whose parents were both G1 winners include Dubawi himself, Street Cry, Galileo, Deep Impact and Kingman. To complete the package his G1 -winning second dam is a half-sister to the great sire and broodmare sire Darshaan.
It is worth noting that Too Darn Hot is entirely Danehill-free. Pedigrees don't come much better than this.
G1 Statistics
Dubawi has sired SIX individual G1 winners on the shuttle, two are out of Mr Prospector-line mares and one is out of a Star Kingdom-line mare from the Bletchingly branch.
The 53 individual worldwide G1 winners feature mares by most of the major commercial sire lines sent to him. They include mares from the Sadler's Wells/Galileo line, the Danzig/ Danehill line and the Mr Prospector/Machiavellian/Street Cry line.
20/53 have a return of Sadler's Wells in the mare.
23/53 have a return of Danzig in the mare.
24/53 have a return of Mr Prospector in the mare.
Best Nicks
Dubawi has sired 261 Stakes winners and has a decent strike rate with all 21 of the broodmare sires whose daughters have been sent to him in biggest numbers. This indicates his tremendous versatility which is a key reason for his success.
He has most individual Stakes winners out of mares by Galileo (11), Singspiel (10), Dansili (9), Green Desert (8), Montjeu (7), Sadler's Wells (6), Shamardal (6), Monsun (6), Danehill (5), Street Cry (5) and Giant's Causeway (5), who represent the major branches of current commercial sire lines. His highest percentages of Stakes winners to runners follow the same trend, the Northern Dancer and Mr Prospector lines both feature strongly.
Dubawi has over 20% Stakes winners to runners with mares by both Nureyev and his grandson Polar Falcon.
Young stallions often nick along the same lines as their sires especially if their own broodmare sire is compatible with the nick.
Inbreeding / Linebreeding options
Apart from introducing Danehill who is the ancestor most obviously not present in Too Darn Hot's pedigree, there are several interesting options for inbreeding to him.
The key names in Too Darn Hot's pedigree are those of the stallions Dubai Millennium, Sadler's Wells and the mares Where You Lead and Delsy who is the dam of outstanding sire and broodmare sire Darshaan. There are numerous ways to inbreed to these key thoroughbreds which should produce good results.
Strategy One
Introduce the missing ingredient to complete the recipe, Danehill.
Dubawi's best results when crossed with the Danehill line include with mares by Dansili, Danehill Dancer, Rock Of Gibraltar and Danehill himself. Introducing Redoute's Choice has also had success.
Strategy Two
Dubawi and Frankel are sons of Dubai Millennium and Galileo respectively. Those two great sires are bred on reverse patterns of a Northern Dancer/Buckpasser/Mr Prospector mix and have a very strong affinity. This nick is even stronger in the Frankel/Dubawi cross which also results in inbreeding to Where You Lead.
The Frankel Dubawi cross has 32 runners, 8 Stakes winners (25% Stakes winners to runners) and FOUR G1 winners which is 12.5% G1 winners to runners and 50% of the Stakes winners are G1 winners. It doesn't get any better than that.
This cross can be recreated using daughters of Galileo or his sons such as Churchill and Adelaide, or with mares by Frankel himself.
Another successful sire bred on a similar pattern is More Than Ready, so his daughters, or mares by his son Better Than Ready, or mares by Sebring (whose dam is by More Than Ready) would all suit Too Darn Hot.
Strategy Three
Another obvious strategy is to introduce Sadler's Wells' three-quarter brother Nureyev, creating inbreeding to the mare Special. This nick has already worked for Too Darn Hot's sire Dubawi and is worth replicating.There are numerous sources of Nureyev available, including a superior source via the great broodmare sire Zabeel whose dam is by Nureyev. Mares by his descendants such as Lonhro, Pierro and Savabeel, or their sons, are all suitable candidates. Star Witness is another source being from the Nureyev sireline himself.
Strategy Four
Too Darn Hot's grandam is a half-sister to the leading sire and broodmare sire Darshaan who is the sire of High Chaparral's dam Kasora. Mares by High Chaparral and his descendants such as So You Think, Dundeel or Toronado would all generate inbreeding to Delsy. Too Darn Hot's brilliant G1 winner Fallen Angel is inbred to Delsy via Dalakhani. This strain can be accessed here via Dalakhani or his son Reliable Man.
Strategy Five
Mares by multiple Champion Sire I Am Invincible will replicate the nicking pattern in Too Darn Hot's initial G1 winner Fallen Angel.
Please note that in several cases the strategies outlined will involve inbreeding to Sadler's Wells which is responsible for 25 G1 winners including dual Arc winner Enable, Cox Plate winner Sir Dragonet, dual Doncaster winner Mr Brightside, Bay Bridge, Tuvalu and Russian Camelot to name just a few.
Conformation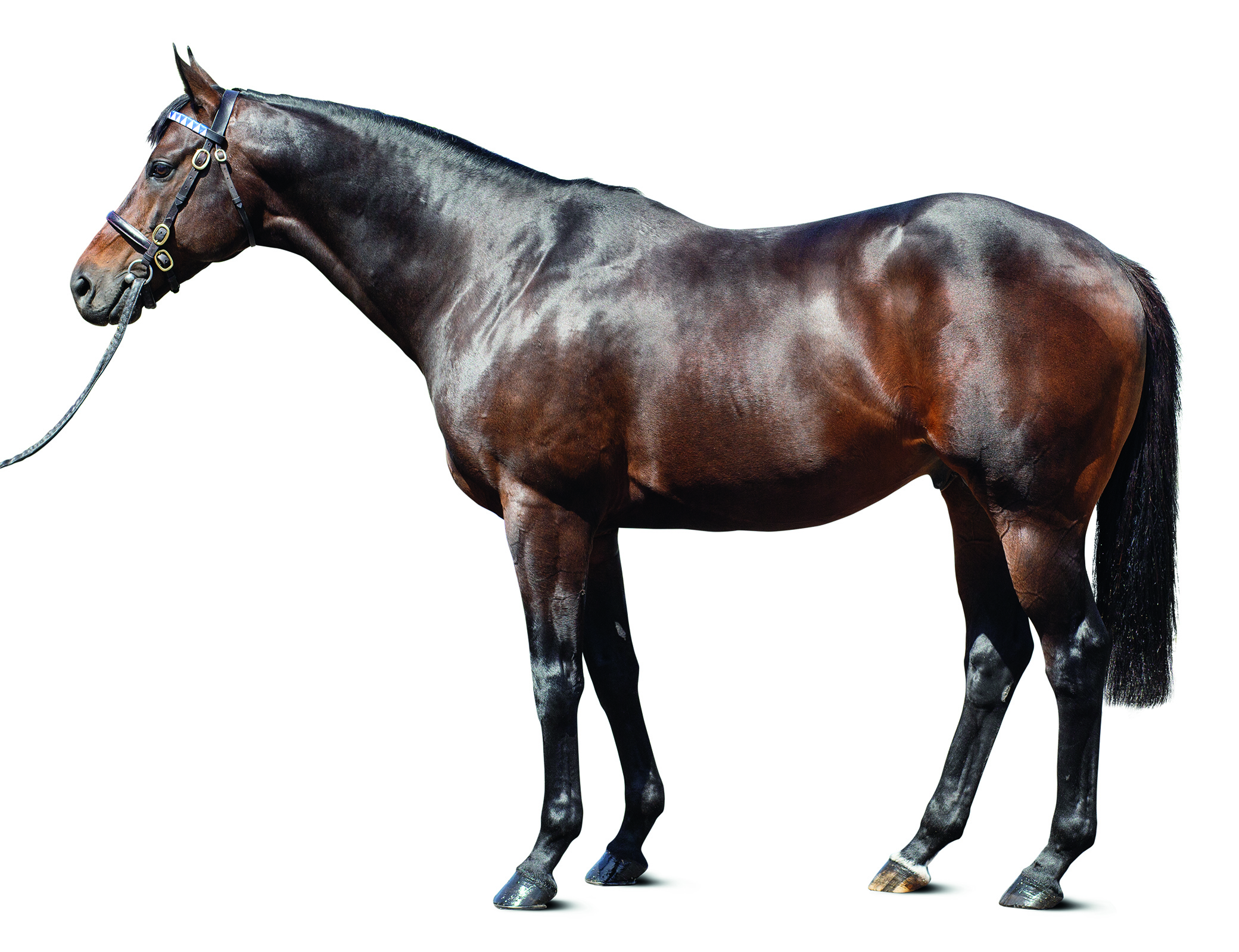 Race record
His successful career
| | | | | | |
| --- | --- | --- | --- | --- | --- |
| Age | Starts | 1st | 2nd | 3rd | Earnings |
| Two | 4 | 4 | - | - | £358,966 |
| Three | 5 | 2 | 2 | 1 | £958,577 |
| Total | 9 | 6 | 2 | 1 | £1,317,543 (A$2,558,843) |
At 2 Champion Two-Year-Old Colt in Europe
1st

Dewhurst S (G1), 1,400m, Newmarket, by 2¾l, beating Advertise, Anthony Van Dyck, Sangarius, Kuwait Currency, Christmas, Mohawk.

1st

Champagne S (G2), 1,400m, Doncaster, by 1¾l, beating Phoenix Of Spain, Cardini, Van Beethoven, Bye Bye Hong Kong, Dark Vision.

1st

Solario S (G3), 1,400m, Sandown Park, by 4l, beating Arthur Kitt, Confiding, Victory Command, Watan, Dunkerron.

1st

Maiden race, 1,600m, Sandown Park, by 7l.
At 3
1st

Sussex S (G1), 1,600m, Goodwood, beating Circus Maximus, I Can Fly, Happy Power, Lord Glitters, Phoenix Of Spain, Zabeel Prince, Accidental Agent.

1st

Prix Jean Prat (G1), 1,400m, Deauville, by 3l, beating Space Blues, Fox Champion, Munitions, Namos, Watan, Pretty Boy, Graignes, Pure Zen, Urwald, Azano, Royal Marine.

2nd

Irish 2,000 Guineas (G1), 1,600m, Curragh, to Phoenix Of Spain, beating Decrypt, Skardu, Magna Grecia, Van Beethoven, Mohawk, Old Glory, Guaranteed, Shelir, Emaraaty Ana.

2nd

Dante S (G2), 2,100m, York, to Telecaster, beating Surfman, Japan, Turgenev, Nayef Road, Line Of Duty.

3rd

St James's Palace S (G1), 1,600m, Royal Ascot, to Circus Maximus, King Of Comedy, beating Skardu, Shaman, Phoenix Of Spain, Fox Champion, Van Beethoven, Royal Marine, The Irish Rover.
Timeform 127