$66,000
B 2016 16.0HH (1.62M)
Exceed And Excel – Dazzler (More Than Ready)
Inc GST Payment on Live Foal (conditions apply). Standing at Kelvinside, NSW
Exceed And Excel's best-performed son to retire to stud.
Crowned World Champion Sprinter, Champion Three-Year-Old, amassing $5,696,110 in prize money and retiring a six-time Group winner, three at G1 level.
Brilliant at two: G3 Kindergarten Stakes by two lengths to Libertini.
Better at three: a dual-G1 winner of the G1 Golden Rose and G1 Newmarket Handicap (like Exceed And Excel).
Blitzed them at four: a 3 1/4 length winning margin in the G1 weight-for-age sprint - the Darley Sprint Classic at Flemington.
Fully booked in his first two seasons with 55 Stakes-winning and 37 Stakes-producing dams. Progeny coming through include half-siblings to Duais, Cylinder and Hellfest. This season's foals include the dam of Daumier plus siblings or half-siblings to Anamoe, Lucky Sweynesse and Loving Gaby.
Pedigree
BIVOUAC

EXCEED AND EXCEL

DANEHILL

DANZIG

NORTHERN DANCER

PAS DE NOM

RAZYANA

HIS MAJESTY

SPRING ADIEU

PATRONA

LOMOND

NORTHERN DANCER

MY CHARMER

GLADIOLUS

WATCH YOUR STEP

BACK BRITCHES

DAZZLER

MORE THAN READY

SOUTHERN HALO

HALO

NORTHERN SEA

WOODMAN'S GIRL

WOODMAN

BECKY BE GOOD

CAMARILLA

ELUSIVE QUALITY

GONE WEST

TOUCH OF GREATNESS

CAMARENA

DANEHILL

CANNY MISS
EXCEED AND EXCEL (AUS) (Bay 2000-Stud 2004). 7 wins-2 at 2-to 1400m, A$1,282,375, VRC
Newmarket H., G1, MRC Invitation S., G1, 1400m, AJC Royal Sovereign S., G2, Up & Coming
S., G2, STC Todman Slipper Trial S., G2, NSW Tatt's RC Roman Consul S., G3. Champion Sire
in Australia in 2012-13. Sire of 2,512 rnrs, 1,770 wnrs, 210 SW, 70.5% winners, 8.4% Stakes
winners inc. Bivouac, Microphone, Overreach, Exceedance, Guelph, Mr Stunning, Earthquake,
Margot Did, Amber Sky, Flamberge, Helmet, September Run, Queen Supreme, Reward for
Effort, Outstrip, Excelebration, Sidestep, Fulbright, Best Terms, Heavy Metal, etc.
1st dam:
DAZZLER, by More Than Ready. 2 wins at 2, VRC Spotless 2YO P., 2d ATC Testa Rossa at
        Vinery H.,  3d ATC Lest We Forget H.  Half-sister to GUELPH  (dam of ENCRYPTION,
        EMANATE), GHIBELLINES.  Dam of 7 named foals, 6 to race, 4 winners, inc:-
    BIVOUAC (c by Exceed and Excel) 7 wins. Champion. See race record.
    CORUSCATE (g by Exceed and Excel)  8 wins- 1 at 2-at 1100m, 1200m,  A$593,850, to
        2020-21, MRC Village S., L, Testa Rossa S., L, 2d ATC Skyline S., G2, MRC Doveton
        S., L, Lamaro's Hotel H., ATC Agency Real Estate H., 3d ATC Pago Pago S., G3, MRC
        Bel Esprit S., L,.
    Glittery (f by Medaglia d'Oro) 4 wins-1 at 2-at 1100m, A$134,455, to 2021-22, ATC First
         Justify Yearlings H., Earthlight at Darley H.
  Sparks (g by Exceed and Excel) 3 wins to 1450m.
2nd dam:
CAMARILLA, by Elusive Quality. Second filly on the 2006-07 Australasian 2YO Classification.
       2 wins at 2, A$494,975, AJC Sires' Produce S., G1, MRC Blue Diamond Prelude (f), G3,
       2d STC Magic Night S., G2, 3d AJC Champagne S., G1, Emancipation S., G2, Phillip
       Quality H., 4th MRC Blue Diamond S., G1, MVRC St Albans S., L. Sister to INDUNA,
       blood-sister to SEPOY. Dam of 4 foals, all winners-
   GUELPH (f by Exceed and Excel) Champion 3YO Filly in Australia in 2013-14. 7 wins-4 at 2-
          from 1000m to 1600m, A$1,629,200, ATC Sires' Produce S., G1, Champagne S., G1,
          Flight S., G1, MRC Thousand Guineas, G1, ATC Tea Rose S., G2, MRC Blue Diamond
          Prelude (f), G3, 2d ATC Furious S., G2, 4th ATC Golden Slipper S., G1. Dam of-
       ENCRYPTION (c by Lonhro) 2 wins-1 at 2-at 1200m, A$743,500, VRC Danehill S., G2, Canberra
             RC Black Opal S., G3, 2d MRC Oakleigh P., G1, VRC Maribyrnong P., G3, MRC Blue
             Sapphire S., G3, Chairman's S., G3, 3d MRC WJ Adams S., L, Debutant S., L, 4th ATC
             Galaxy H., G1, Arrowfield 3YO Sprint S., G2. At stud.
        EMANATE (f by Lonhro) 6 wins to 1200m, A$325,540, to 2021-22, ATC Birthday Card S., G3,
             Sharp Extensive IT H., Sky Racing Active H.-twice, Bowermans Furniture H., 3d ATC
             Wenona Girl H., G3, 4th MRC Alinghi S., L.
      Stelvio. 2 wins at 1200m, 1400m in 2021-22, 3d MRC Ladbrokes Blended Multi H.,
           Ladbrokes Same Race Multi H.
GHIBELLINES (c by Shamardal) Winner at 2, A$272,700, ATC Todman S., G2, 3d VRC Danehill
    S., G2, ATC Canonbury S., L, 4th ATC Breeders' P., L. Sire.
Dazzler. 2 wins. See above.
Inner Circle. Winner at 2, ATC Mossman at Vinery 2YO P., 3d ATC McGrath Estate Agents 2YO H.,
       4th ATC Pago Pago S., Gr.2.
3rd dam:
CAMARENA, by Danehill. 9 wins-1 at 2-from 1050m to 2400m, A$938,610, Queensland
      Derby, G1, Queensland Guineas, G2, AJC Reginald Allen H., L, 2d VRC LKS Mackinnon
      S., G1, AJC Flight S., G1, VATC Eat Well Live Well Cup, G1, GCTC AD Hollindale S.,
      G2, Qld Tatt's RC Tattersall's Cup, G3, MVRC WH Stocks S., G3, QTC Reckless H., L,
      3d AJC Australian Oaks, G1, STC Ansett Australia S., G1, QTC Grand Prix S., G2, Sir
      Byrne Hart S., G2. Dam of 11 foals, 9 to race, 8 winners, inc:-
  CAMARILLA (Elusive Quality) 2 wins. See above.
  INDUNA (Elusive Quality) 2 wins at 2100m, 2200m, A$363,980, Geelong Classic, L, 2d
        Victoria Derby, G1, 3d ATC Dulcify H., L, Randwick Betting Auditorium H.
Stud record
Bivouac's first crop are yearlings of 2023.
Pedigree notes
Bivouac is the best and fastest son of Exceed And Excel, Australia's leading influence for speed and early maturity.
The best sons of outstanding sires have made the best candidates to succeed their sires right throughout thoroughbred history, with just a few spectacular examples including Gainsborough/Hyperion, Nearctic/Northern Dancer, Halo/Sunday Silence, Wilkes/Vain, High Chaparral/So You Think, Dubai Millennium/Dubawi, and Galileo/Frankel. Exceed And Excel/Bivouac looks like a logical progression.
He is bred on the Danehill/More Than Ready mix which has produced Golden Slipper winner and successful sire Sebring and multiple G1 winner and Golden Slipper winning sire Rebel Dane. It is a formula for stallion success, especially as Bivouac is the best horse bred on the cross.
To complete the picture, Bivouac had brilliant early speed, a defining characteristic of successful sires.
G1 Statistics
Bivouac's sire Exceed And Excel has left 18 individual G1 winners to date which are by 17 different broodmare sires, two being out of Elusive Quality mares.
7/18 have a return of Mr Prospector in the mare.
4/18 have a return of Sadler's Wells in the mare.
Exceed And Excel has sired multiple G1 winners with returns of Star Kingdom, Sir Tristram and Danehill. Versatility is Exceed And Excel's strong suit and we could reasonably expect the same from his son Bivouac.
Best Nicks
The best guide to a young stallion's future nicks is the nicking pattern of his sire and sire line. This turns out to be accurate in a majority of cases, but be aware, not always.
Bivouac's sire Exceed And Excel has already left 210 Stakes winners and has more than 16 runners out of daughters of over 30 different broodmare sires so there is plenty of evidence to hang your hat on.
For Exceed And Excel the most individual Stakes winners are out of mares by: Elusive Quality (11), Encosta de Lago (7), Lonhro (7), Snippets (6), Singspiel (5).
The highest percentages of Stakes winners to runners are with mares by: Gone West (21%), Snippets (20%), Elusive Quality (18%), Dehere (17%), Singspiel (13%), Encosta de Lago (12%).
The Exceed And Excel nicks with both Elusive Quality and Encosta de Lago are based on over 50 runners each so are very reliable figures. Bivouac already has a second dam by Elusive Quality leaving Encosta se Lago as a preferred option. Once again the Mr Prospector line looks promising, with Gone West featuring.
Both the biggest number of individual Stakes winners and the best score on percentages are with Mr Prospector-line broodmares.
The "Darley" nicks involving Exceed And Excel/Lonhro mares and Exceed And Excel/Street Cry mares are both very successful and are represented by two of the star two-year-olds of the 2022/23 season, Barber and Cylinder respectively.
The absence of Danehill-line mares on these lists is significant, although he will be a generation further back in future matings with Bivouac.
Inbreeding / Linebreeding options
Here we have several interesting possibilities which augurs well for Bivouac.
The similarly bred Rebel Dane has three of his four best runners carrying a return of La Troienne in the dam line. Inbreeding to the greatest mare of the 20th century has been very successful overall, and specifically in the case of More Than Ready who has three offspring of La Troienne in his dam and a further two lines of her influential sire Teddy. There are several commercial sires carrying further lines of La Troienne, the more the better even if in the sixth or seventh generation of a planned mating.
As Bivouac is from the family of the great broodmare sire Canny Lad who crosses well with Danehill, of which Bivouac already has two lines, it might be a good option to find mares carrying Canny Lad, or from Canny Lad's family, possibly Danehill free.
There are a couple of obvious candidates here in I Am Invincible and Rubick and their sons. Mares by that pair would seem ideal prospects.
Strategy One
Mr Prospector-line mares should suit Bivouac whose single line of that sire will appear in the sixth generation of future matings with good effect.
Mares by Street Cry, Street Boss, Street Sense, Hallowed Crown, Dubawi, Makfi, Secret Savings or Swiss Ace (or with a second dam by those stallions) would be ideal prospects.
Strategy Two
Bivouac is by a son of Danehill and inbred to Danehill, with some of the best results for that great sire coming when combined with Sadler's Wells bloodlines.
There are numerous sources of Sadler's Wells blood in Australia through his many successful branches. Among them are Galileo and sons, High Chaparral and sons such as So You Think, also Montjeu, Singspiel, Medaglia d'Oro, Barathea and Scenic just to name a few. Mares by any of those sires or their sons would be fine choices for Bivouac.
Champion broodmare sire Encosta de Lago is by Sadler's Wells' brother Fairy King, and he has already nicked well with Bivouac's sire. So Encosta de Lago mares should definitely be included in this strategy.
Strategy Three
Introduce more La Troienne. Reinforcing La Troienne (Teddy – Helene De Troie by Helicon) has been one of the most successful strategies used to produce elite thoroughbreds over the past half-century and shows no sign of waning.
Bivouac has multiple lines of La Troienne, which have doubtless contributed to his own brilliance. Reinforcing these via Buckpasser, whose third dam is La Troienne, can be achieved by using mares sired by Galileo, Dubawi, Seattle Slew, Last Tycoon or their sons. Those are some of the leading quality sources of Buckpasser blood, but La Troienne can also be accessed through stallions carrying a strain of her other descendants such as Poker, Belong To Me, Noble Bijou, Caerleon, Allez France, Boucher, Priceless Gem and Polish Navy.

Special mention should be made of Galileo and Dubawi-line mares, as both those sires have pedigree similarities to Bivouac's broodmare sire More Than Ready. They also fulfil some of the other requirements outlined and appeal very strongly for Bivouac.

Conformation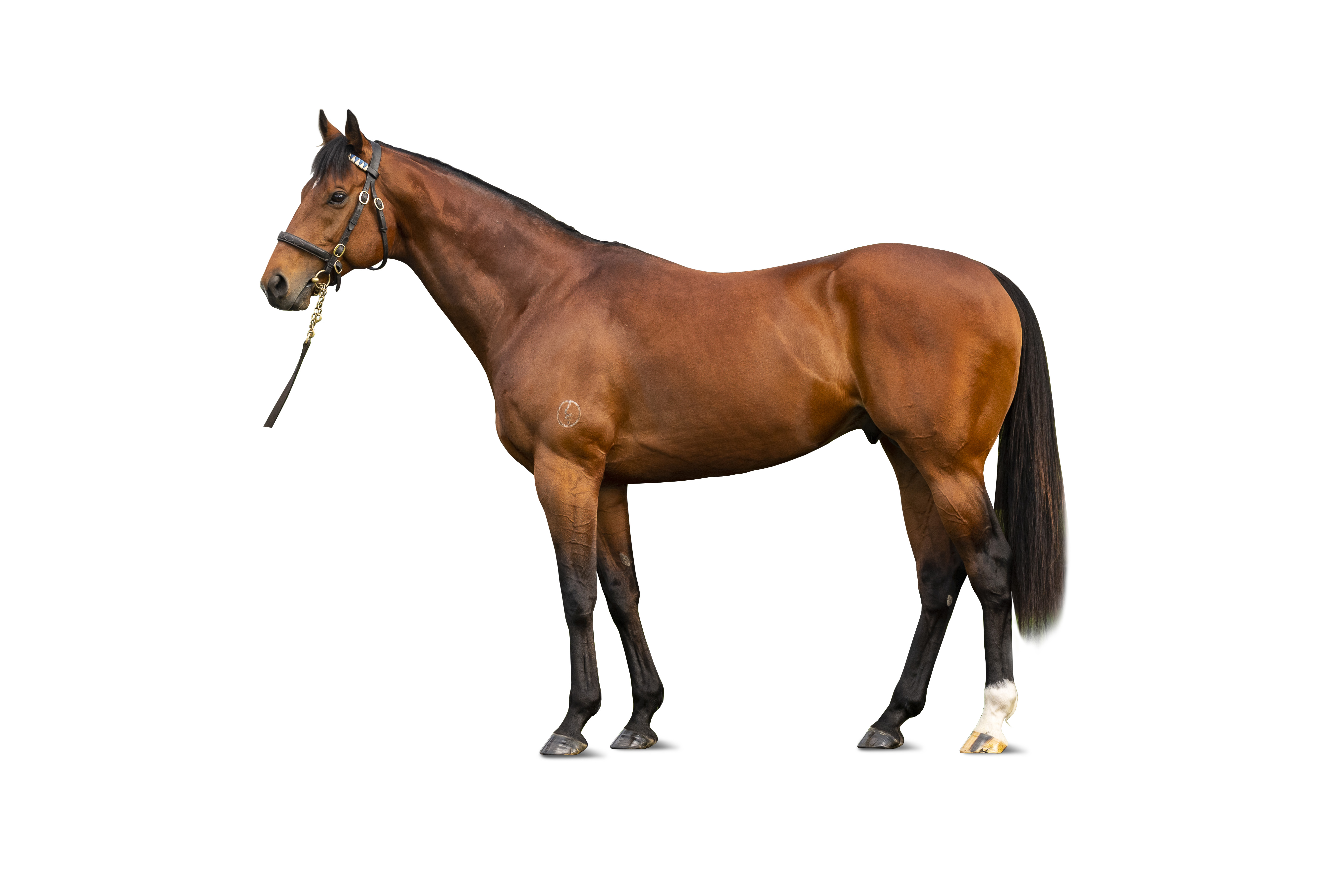 Race record
His successful career
| | | | | | |
| --- | --- | --- | --- | --- | --- |
| Age | Starts | 1st | 2nd | 3rd | Earnings |
| Two | 5 | 2 | 1 | 1 | A$251,200 |
| Three | 11 | 4 | 2 | 1 | A$1,965,060 |
| Four | 6 | 1 | 1 | 2 | A$3,479,850 |
| Total | 22 | 7 | 4 | 4 | A$5,696,110 |
At 2
1st

Kindergarten S (G3), 1,100m at Randwick by 2l, beating Libertini, Athiri, Stronger, Killin, Cardiff.

1st

Lonhro Plate (L), 1,100m at Warwick Farm, beating Cosmic Force, Steel Diamond, Time To Reign.

4th

Todman S (G2), 1,200m at Randwick, to Yes Yes Yes, Bellevue Hill, Dubious, beating Strasbourg, Time To Reign, Spring Loaded.
At 3
1st

Newmarket H (G1), 1,200m at Flemington, by 2½l, beating Loving Gaby, Gytrash, Zoutori, Banquo, Exceedance, Tofane, The Inevitable, Libertini, Trope, Despatch.

1st

Golden Rose S (G1), 1,400m at Rosehill, beating Yes Yes Yes, Exceedance, Kubrick, Dawn Passage, Castelvecchio, Prince Fawaz.

1st

Run To The Rose (G2), 1,200m at Rosehill, by 2l, beating Yes Yes Yes, Exceedance, Kubrick, Dawn Passage, Prince Fawaz, Hightail.

1st

Vain S (G3), 1,100m at Caulfield, by 4¼l, beating Sebrakate, Dirty Work, Dubious, Excess Funds.

2nd

Coolmore Stud S (G1), 1,200m at Flemington, by a neck, to Exceedance, beating Libertini, Li'L Kontra, Brooklyn Hustle, Cosmic Force, Alabama Express, Broadwayandfourth, Sartorial Splendor, Accession, Cardiff.

2nd

San Domenico S (G3), 1,100m at Rosehill, to Exceedance, beating Anaheed, Catch Me.

3rd

William Reid S (G1), 1,200m at Moonee Valley, to Loving Gaby, Gytrash, beating Pippie, Mystic Journey, Exceedance, Vital Silver, Embrace Me, Scales Of Justice, Rock Magic, Zoutori.
At 4 World Champion Sprinter
1st

VRC Sprint Classic (G1), 1,200m at Flemington, by 3¼l, beating Nature Strip, Libertini, Zoutori, Hey Doc, Graff, Tofane, Standout, Santa Ana Lane, Fabergino.

2nd

The Everest, 1,200m at Randwick, to Classique Legend, beating Gytrash, Trekking, Haut Brion Her, Santa Ana Lane, Nature Strip, Libertini, Tofane, Behemoth, Eduardo, Dollar For Dollar.

3rd

Canterbury S (G1), 1,300m at Randwick, to Mizzy, Masked Crusader, beating Dreamforce.

3rd

Shorts H (G3), 1,100m at Randwick, to Classique Legend, Eduardo, beating Dirty Work, Standout, Splintex, Greyworm, Ball Of Muscle, Catalyst.
Timeform 128
Video footage
Watch him go:
see him at his best
Newmarket H (G1), 1200m, Flemington, 07 Mar 2020
VRC Sprint Classic (G1), 1200m, Flemington, 07 Nov 2020
Golden Rose S (G1), 1400m, Rosehill, 28 Sep 2019
Run to the Rose H (G2), 1200m, Rosehill, 14 Sep 2019
Kindergarten S (G3), 1100m, Randwick, 06 Apr 2019
Vain S (G3), 1100m, Caulfield, 17 Aug 2019
Lonhro Plate, 1100m, Warwick Farm, 09 Feb 2019
Coolmore Stud S (G1), 1200m, Flemington, 02 Nov 2019
Special insights:
interviews, expert opinion and more
See the full playlist on YouTube