$33,000
B 2016 16.1½HH (1.66M)
Exceed And Excel – Sung (Anabaa)
Inc GST Payment on Live Foal (conditions apply). Standing at Kelvinside, NSW
The best two-year-old son of the best two-year-old sire: Exceed And Excel.
Crowned Champion Two-Year-Old Colt in a vintage crop: his peers included the likes of now-sires Bivouac, Exceedance, Yes Yes Yes and Castelvecchio as well as fillies Probabeel and Loving Gaby - proven G1 weight-for-age performers against the colts.
Microphone's first-crop first yearlings were purchased by leading buyers and are placed in Australia's leading stables: China Horse Club/Newgate colts syndicate/Go Bloodstock/Trilogy, David Ellis, Joe Pride, Kennewell Racing, Lindsay Park Racing, Mystery Downs, Richard & Will Freedman, Star Thoroughbreds and Triple Crown.
First-crop yearlings by average returned 4.5 times their service fee
"When I saw this horse (Microphone x South of France) for the first time at Newhaven Park last month I drove out of the farm and I couldn't stop thinking about him and when I got here and saw him, he'd only improved. There weren't many better animals on the complex than that colt."
Henry Field, Managing Director Newgate
Pedigree
MICROPHONE

EXCEED AND EXCEL

DANEHILL

DANZIG

NORTHERN DANCER

PAS DE NOM

RAZYANA

HIS MAJESTY

SPRING ADIEU

PATRONA

LOMOND

NORTHERN DANCER

MY CHARMER

GLADIOLUS

WATCH YOUR STEP

BACK BRITCHES

SUNG

ANABAA

DANZIG

NORTHERN DANCER

PAS DE NOM

BALBONELLA

GAY MECENE

BAMIERES

VOCALIST

BLUEBIRD

STORM BIRD

IVORY DAWN

LOYAL LYRIC

SOVEREIGN RED

MISS ENTERTAINER
EXCEED AND EXCEL (AUS) (Bay 2000-Stud 2004). 7 wins-2 at 2-to 1400m, A$1,282,375, VRC Newmarket H., G1,
MRC Invitation S., G1, 1400m, AJC Royal Sovereign S., G2, Up & Coming S., G2, STC Todman Slipper Trial S., 
G2, NSW Tatt's RC Roman Consul S., G3. Champion Sire in Aust. in 2012-13. Sire of 2,512 rnrs, 1,770 wnrs, 209
SW,  70.5%  winners,  8.4%  Stakes  winners  inc.  Bivouac,  Microphone,  Overreach,  Exceedance, Guelph, Mr
Stunning, Earthquake, Margot Did, Amber Sky, Flamberge, Helmet, September Run, Queen Supreme, Reward
for Effort, Outstrip, Excelebration, Sidestep, Fulbright, Best Terms, Heavy Metal, ETC.
1st dam:
SUNG, by Anabaa. 3 wins to 1400m, A$176,950, Scone RC Dark Jewel Classic, L, Hawkesbury RC
      Woodlands Crown H., 2d AJC PJ Bell H., L. Sister to YELL, half-sister to Shouts (dam of HOLLER).
      Dam of 6 named foals, 5 to race, 4 winners, inc:-
  MICROPHONE (c by Exceed and Excel) 5 wins. Champion. See race record.
  Lieder (g by Street Cry) 8 wins from 1200m to 2000m, A$416,391, Alice Springs Cup, SAJC Hit107 H.,
       Festival of Racing H., GCTC Moco Meats P., 2d Darwin Cup, ATC TAB More Than Winning H.
2nd dam:
VOCALIST, by Bluebird. 2 wins at 2, A$106,820, ACT RC Black Opal Preview S., L, AJC Sunnyside
      2YO H., 2d STC Tea Rose S., G2, Garden Island 2YO H., 3d ACT RC Black Opal S., G2, STC
      Riverina Charm H. Half-sister to ANTHEMS, Patriotism, Hit, Verse (dam of LAMASERY,
      LADY CHANT). Dam of 12 foals, 10 to race, 8 winners, inc:- 
  YELL (Anabaa) Champion Sprinter in Australia in 2002-03. 9 wins-2 at 2-to 1400m, A$1,566,450,
         MRC Futurity S., G1, CF Orr S., G1, MVRC Australia S., G1, STC Canterbury S., G2, MVRC
         Norman Carlyon S., G2, CS Hayes S., G3, Ian McEwen Trophy, L, MRC Veuve Clicquot S., L,
         BTC Golden S., L, 2d MVRC Manikato S., G1, AJC TJ Smith S., G2, STC Todman Slipper Trial
         S., G2, SAJC Breeders' S., G2, BTC Champagne Classic, G3, MRC HDF McNeil S., G3,
         Bletchingly S., G3, 3d MRC Futurity S., G1, 4th AJC All Aged S., G1.
  SUNG (Anabaa) 3 wins. See above. 
  Shouts. Unplaced. Dam of-
      HOLLER (Commands) 4 wins-1 at 2-to 1300m, A$748,625, ATC Canterbury S., G1, MVRC
            Australia S., G2, Red Anchor S., G3, ATC Hyland Race Colours 2YO P., 2d MVRC William
           Reid S., G1, MRC Gothic S., L, ATC More Than Ready at Vinery H., 3d ATC Run to the
           Rose H., G2, Australian Jewellery Liquidators 2YO P. Sire.
3rd dam:
LOYAL LYRIC, by Sovereign Red. 4 wins to 1500m, AJC Dan Lewis H., Ted McMenamin H., STC
      Diners Club International H., 2d City Tatt's RC Lees H., STC Suva S., 3d AJC Heart of St
      Vincents Project H., STC Parkroyal on St Kilda Rd H., Parbury Welter H. Half-sister to Party
      Miss (dam of WRITTEN TYCOON). Dam of 11 foals, 9 to race, 6 winners, inc:-
  ANTHEMS (Palace Music) Second top colt on the 1995-96 Australasian 2YO Classification. 10
      wins-6 at 2-from 1200m to 1600m, A$860,368, QTC Queensland Classic, G1, Sires' Produce
       S., G1, NSW Tatt's RC Roman Consul S., G3, AJC Fernhill H., L, QTC Brisbane H., L,
       Newcastle JC Cameron H., L, 2d AJC Champagne S., G1, STC Phar Lap S., G2, 3d AJC
       Challenge S., G2, Hobartville S., G2, 4th STC George Ryder S., G1.
  VOCALIST (Bluebird) 2 wins. See above.
   Verse. Unraced. Dam of-
      LAMASERY (Commands) 11 wins from 1400m to 2400m, A$630,450, ATC Hill S., G2, Kingston
             Town S., G3, Colin Stephen H., G3, 3d ATC Metropolitan H., G1.
      LADY CHANT (War Chant) Winner at 2400m, in 2021-22, Western Australian Oaks, G3.
Stud record
Microphone's first crop are two-year-olds of 2023.
Pedigree notes
Microphone is Australia's Champion Two-Year-Old, by the leading early maturing speed influence Exceed And Excel, from the family of Champion Sire Written Tycoon. This is a CV for stud success.
Microphone was head of a particularly strong crop of two-year-olds which included Bivouac, Exceedance and Yes Yes Yes. After being the first colt home as runner-up in the G1 Golden Slipper, he won the G1 ATC Sires Produce emulating successful sires such as Choisir, Sebring, Pierro and General Nediym who are just a few of the horses with similar form profiles.
His yearlings have sold to the leading industry judges for up to $750,000, with 9/43 selling for $200,000 or more off his initial under $44,000 (including GST) fee.
Microphone's sire Exceed And Excel has left 18 individual G1 winners to date which are by 17 different broodmare sires, two being out of Elusive Quality mares.
7/18 have a return of Mr Prospector in the mare.
4/18 have a return of Sadler's Wells in the mare.
Exceed And Excel has sired multiple G1 winners with returns of Star Kingdom, Sir Tristram and Danehill.
Versatility is Exceed And Excel's strong suit and we could reasonably expect the same from his son Microphone.
Best Nicks
The best guide to a young stallion's future nicks is the nicking pattern of his sire and sire line. This turns out to be accurate in a majority of cases, but be aware, not always.
Microphone's sire Exceed And Excel has already left 210 Stakes winners and has more than 16 runners out of daughters of over 30 different broodmare sires so there is plenty of evidence to hang your hat on.
For Exceed And Excel, the most individual Stakes winners are out of mares by Elusive Quality (11), Encosta de Lago (7), Lonhro (7), Snippets (6), Singspiel (5).
The highest percentages of Stakes winners to runners are with mares by: Gone West (21%), Snippets (20%), Elusive Quality (18%), Dehere (17%), Singspiel (13%), Encosta de Lago (12%).
The Exceed And Excel nicks with both Elusive Quality and Encosta de Lago are based on over 50 runners each so are very reliable figures.
Both the biggest number of individual Stakes winners and the best score on percentages are with Mr Prospector-line broodmares.
The "Darley" nicks involving Exceed And Excel/Lonhro mares and Exceed And Excel/Street Cry mares are both very successful and are represented by two of the star two-year-olds of the 2022/23 season, Barber and Cylinder respectively.

The absence of Danehill-line mares on these lists is significant, although he will be a generation further back in future matings with Microphone.
Microphone's dam is by Danzig's son Anabaa whose daughters have a spectacular nick with Galileo and Montjeu, the two outstanding sire sons of Sadler's Wells. There are 16 Stakes winners bred on those two crosses alone.
Inbreeding / Linebreeding options
Microphone carries two lines of the great mare La Troienne from his sire Exceed And Excel via Buckpasser and Poker and this looks to be a promising area for linebreeding. More Than Ready and his son Sebring (and their sons in turn) carry additional lines of La Troienne as does Seattle Slew. Overachieving young sire Rebel Dane is highly inbred to La Troienne, and although his daughters will be scarce due to small initial books, they could prove interesting.
The other worthwhile option will be to introduce lines of Nijinsky in the mare. Microphone has a second dam by a son of Storm Bird who has strong pedigree similarities to Nijinsky. They are both by Northern Dancer out of Bull Page-line mares and have already crossed successfully with 227 G1 winners bred on this mix, including Snitzel, Victor Ludorum, Private Eye, Think It Over and unbeaten Flightline.
Microphone's fourth dam Miss Entertainer (by Vain) is also the third dam of Champion Sire Written Tycoon, offering a quality source of material for inbreeding.
Strategy One
Mr Prospector-line mares should suit Microphone with sources via Street Cry, Street Boss, Street Sense, Hallowed Crown, Dubawi, Makfi, Poet's Voice, Elusive Quality, Secret Savings or Swiss Ace being among the leading candidates. Mares with those sires anywhere in their makeup could also be included in this strategy.
Strategy Two
Both Microphone's Danehill sire line and his Anabaa broodmare sire line have some of their strongest nicks with Sadler's Wells-line sires.
There are numerous sources of Sadler's Wells blood in Australia through his many successful branches. Among them are Galileo and sons, High Chaparral and sons such as So You Think, also Montjeu, Singspiel, Medaglia d'Oro, Barathea and Scenic just to name a few. Mares by any of those sires or their sons would be fine choices for Microphone.
Champion Broodmare Sire Encosta de Lago is by Sadler's Wells' brother Fairy King, and he has already nicked well with Microphone's s sire.
Strategy Three
More La Troienne. Reinforcing La Troienne (Teddy – Helene De Troie by Helicon) has been one of the most successful strategies used to produce elite thoroughbreds over the past half century and shows no sign of waning. Introducing Buckpasser, whose third dam is La Troienne, can be achieved by using mares sired by Galileo, Dubawi, Seattle Slew, Last Tycoon or their sons. Those are some of the leading quality sources of Buckpasser blood, but La Troienne can also be accessed through stallions carrying a strain of her other descendants such as Poker, Belong To Me, Noble Bijou, Caerleon, Allez France, Boucher, Priceless Gem and Polish Navy.
Strategy Four
Another worthwhile option would be to introduce lines of Nijinsky in the mare. Microphone has a second dam by a son of Storm Bird who has strong pedigree similarities to Nijinsky. They are both by Northern Dancer out of Bull Page-line mares and have already crossed successfully with 227 G1 winners bred on this mix, including Snitzel, Victor Ludorum, Private Eye, Think It Over and unbeaten Flightline.
Strategy Five
Inbreeding to a stallion's female family has long been one of the most successful methods of breeding a good horse. The Vain mare Miss Entertainer is close up in the direct female line of both Microphone and Champion Sire Written Tycoon. Daughters or granddaughters of Written Tycoon would create the desired result, with the first four runners featuring this pattern, using other sires, all being winners.

Conformation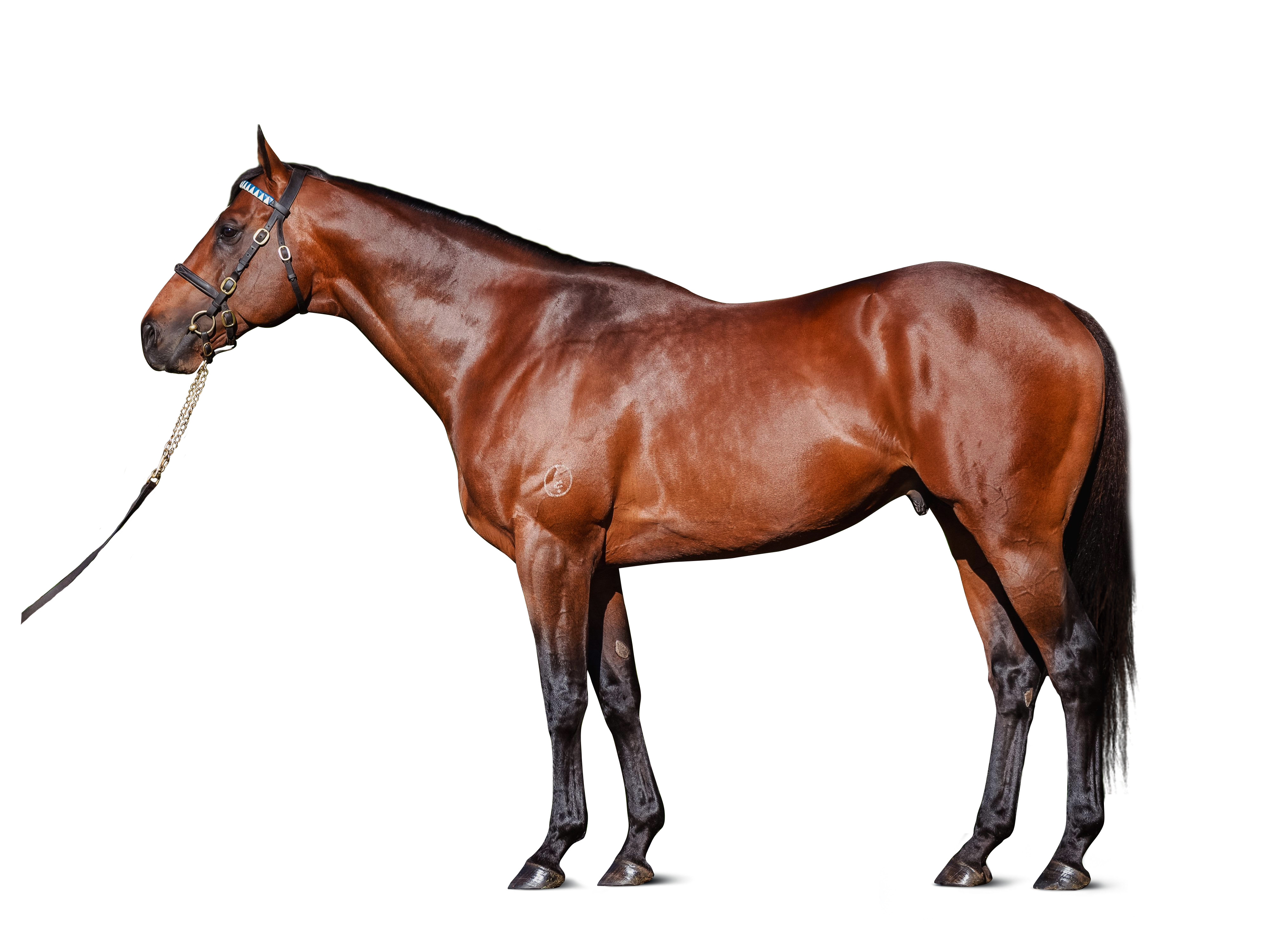 Race record
His successful career
| | | | | | |
| --- | --- | --- | --- | --- | --- |
| Age | Starts | 1st | 2nd | 3rd | Earnings |
| Two | 6 | 4 | 2 | - | A$1,588,600 |
| Three | 5 | 1 | 1 | 2 | A$379,050 |
| Total | 11 | 5 | 3 | 2 | A$1,967,650 |
At 2 Champion Two-Year-Old in Australia
1st

Sires' Produce S (G1), 1400m, Randwick, beating Loving Gaby, Castelvecchio, Kiamichi, Probabeel, Crystal Falls, Bellevue Hill, Strasbourg, Tenley, Spring Loaded.

1st

Skyline S (G2), 1200m, Randwick, beating Cosmic Force, Castelvecchio, Accession.

1st

Talindert S (L), 1100m, Flemington, by 2¼l, beating Talented, Charleise, Excess Funds, Alburq, Lanigera, Art Collection, Steal My Kisses.

1st

Maiden race, 1000m, Flemington, beating Pretty Brazen.

2nd

Golden Slipper S (G1), 1200m, Rosehill, to Kiamichi, beating Lyre, Loving Gaby, Time To Reign, Anaheed, Yes Yes Yes, Cosmic Force, Lankan Star, Dubious, Catch Me, Pin Sec, Vincere Volare, Exhilarates, Tenley, Free Of Debt.

2nd

Blue Diamond Preview (L), 1000m, Caulfield, to I Am Immortal, beating Alburq.
At 3
1st

Autumn S (G2), 1400m, Caufiled, beating Banquo, Adelaide Ace, Lady Lupino, The Holy One, Legion Of Merit, Wedgetail.

2nd

Randwick Guineas (G1), 1600m, Randwick, to Shadow Hero, beating Brandenburg, Reloaded, Warning, The Holy One, Prince Fawaz, Castelvecchio, Conqueror, Fortress Command, Pancho.

3rd

Hobartville S (G2), 1400m, Rosehill, to Brandenburg, Reloaded, beating Pancho, Shadow Hero, Castelvecchio, Warning, Kubrick, Fortress Command,
The Holy One, Prince Fawaz.

3rd

Roman Consul S (G2), 1200m, Randwick, to Cosmic Force, Standout, beating Dirty Work, Accession, True Detective.
Timeform 121
Best progeny
His winning offspring
Video footage
Watch him go:
see him at his best
Sires' Produce S (G1), 1400m, Randwick, 06 Apr 2019
Autumn S (G2), 1400m, Caulfield, 08 Feb 2020
Skyline S (G2), 1200m, Randwick, 02 Mar 2019
Golden Slipper S (G1), 1200m, Rosehill, 23 Mar 2019
Special insights:
interviews, expert opinion and more
See the full playlist on YouTube