$27,500
B 2015 16.2HH (1.68M)
Dubawi – Nightime (Galileo)
Inc GST Payment on Live Foal (conditions apply). Standing at Northwood Park, VIC
Crowned Horse of the Year and World Champion following four unrivalled G1 victories by a combined 21 3/4 length winning margin. An eight-time Group-winner at two, three, four and five.
The highest-rated son of the best stallion in English history – Dubawi, a proven G1-producing sire of sires - out of a G1-winning Galileo mare.
A Group-winning two-year-old who posted three of the top four Timeform performances of 2020, beating Enable in the G1 Eclipse and Magical in the G1 International.
Throwing great types - like himself. Having topped the Goffs Foal Sales at €1.1 million, he became the leading first-season sire by average at Tattersalls 2023 yearling sale (264,667gns) with a top-price of 1,050,000gns – the highest-priced colt by a first-crop sire this century.
Pedigree
GHAIYYATH

DUBAWI

DUBAI MILLENNIUM

SEEKING THE GOLD

MR PROSPECTOR

CON GAME

COLORADO DANCER

SHAREEF DANCER

FALL ASPEN

ZOMARADAH

DEPLOY

SHIRLEY HEIGHTS

SLIGHTLY DANGEROUS

JAWAHER

DANCING BRAVE

HIGH TERN

NIGHTIME

GALILEO

SADLER'S WELLS

NORTHERN DANCER

FAIRY BRIDGE

URBAN SEA

MISWAKI

ALLEGRETTA

CAUMSHINAUN

INDIAN RIDGE

AHONOORA

HILLBROW

RIDGE POOL

BLUEBIRD

CASTING COUCH
DUBAWI (IRE) (Bay 2002-Stud 2006). 5 wins-3 at 2-from 1200m to 1600m, £217,532, €744,469,
Deauville Prix Jacques Le Marois, G1, Curragh National S., G1, Irish Two Thousand Guineas, 
G1, Newmarket Superlative S., G3, 2d Newmarket Queen Elizabeth II S., G1, 3d The Derby, G1.
Champion sire. Sire of 1,570 rnrs, 1,188 wnrs, 252 SW, 75.7% winners, 16.01% Stakes winners
inc. Ghaiyyath, Too Darn Hot, Postponed, Space Blues, Prince Bishop, Makfi, TIME TEST, New
Bay, Akeed Mofeed, Yibir, MODERN GAMES, Arabian Queen, Monterosso, Al Kazeem, Benbatl,
Luck or Design - Lucky Nine (H.K.), Old Persian, Coronet, Coroebus, Wuheida, Bateel, Journey,
Red Dubawi, Nezwaah, etc.
1st dam:
NIGHTIME, by Galileo. 2 wins at 1m, 8¾f, €235,912, Irish One Thousand Guineas, G1.
       Broodmare of the Year in Ireland in 2020. Sister to Phaenomena (dam of KING OF
       KOJI, HARAJUKU), half-sister to Mermaid Island (dam of ONDINA). Dam of 12
       named foals, 10 to race, 7 winners, inc:-
  GHAIYYATH (c Dubawi) 9 wins. Champion. See race record.
  ZHUKOVA (f Fastnet Rock) Champion Older Female in Europe in 2016 (Int.). 7 wins
        from 1¼m to 1½m, €223,135, US$250,000, Belmont Man o' War S., G1, Leopardstown
        Enterprise S., G3, Naas Blue Wind S., G3, Curragh Alleged S., L, Cork Noblesse S., L,
        Galway Oyster S., L, 4th Curragh Pretty Polly S., G1, Cork Give Thanks S., G3.
  Sleeping Beauty (f Oasis Dream) Winner at 1¼m, 3d Navan Salsabil S., L. Dam of-
     Irish Territory (c Declaration of War) Winner at 1m, 2d Saratoga With Anticipation S., G3.
  New Year's Night (g Raven's Pass) 3 wins from 8¾f to 12¼f, Lingfield Coral Mobile H., 2d
        Ascot Leo Bancroft Signature Haircare H.
  Al Nafir (g Dubawi) 2 wins-1 at 2-at 1m, 1½m, £76,738, to 2022, Newmarket Old Rowley
       Cup Heritage H., 2d Newmarket Mansionbet Best Odds 2YO S.
Midnight Fair (f Raven's Pass) 2 wins at 2100m, 2200m in France.
Knight to King (c by Kingman) Winner at 9½f in 2023, 4th Saint-Cloud Prix Eugène Adam, Gr.2, Curragh Royal Whip S., Gr.3.
  La Chapelle (f Holy Roman Emperor) Raced once. Dam of 4 winners, inc -
       MAUIEWOWIE (f Night of Thunder) 2 wins at 2 in 2022, Curragh Curragh S., L,
               2d Naas Marwell S., L.     
      Something Enticing (f Fascinating Rock) 4 wins from 1m to 10¼f, £89,690, to 2022,
            Doncaster Gillies S., L, York Coral Finale H., 2d Doncaster Gillies S., L, Sandown
            Prostate Cancer UK H., Casumo App
2nd dam:
CAUMSHINAUN, by Indian Ridge. Champion Older Female Miler in Ireland in 2001. 5 wins
      from 6f to 1m, £80,168, Cork Platinum S., L, Curragh Summer Fillies H., Helen Hannan
      Memorial H., Leopardstown Glencullen H., 4th Curragh Minstrel S., G3. Dam of 10 named
      foals, 9 to race, all winners, inc:-
  NIGHTIME (f Galileo) 2 wins. See above.
  Mermaid Island (f Mujadil) Winner at 2, 2d Gowran Park Victor McCalmont Memorial S., L,
       3d Leopardstown Irish Stallion Farms 2YO S. Dam of-
    ONDINA (f Manhattan Rain) 3 wins at 1350m, 1600m, A$106,460, SAJC Laelia S., L, ATC
         Michelle Dunn H., 3d ATC Cal Rei H. Producer.
    Holy Cow (f Teofilo) 3 wins at 1600m, A$106,375, MRC Swettenham Stud H., MVRC Slickpix
          H., Melbourne Signage Concepts P., 3d SAJC Centaurea S., L, 4th MVRC Tesio S., G3,
          VRC Cap d'Antibes S., L.
  PHAENOMENA (f Galileo) 2 wins at 11f, 1½m, Newmarket Prestige Vehicles Fillies' H. Dam of-
     KING OF KOJI (Lord Kanaloa) 6 wins from 1600m to 2500m, 194,607,000¥, to 2022,
             Nakayama American Jockey Club Cup, G2, Tokyo Meguro Kinen, G2, Nakayama
             Wangan S., Itako Tokubetsu, 3d Kyoto Daishoten, G2.
     HARAJUKU (Deep Impact) 2 wins-1 at 2-at 1400m, 2100m, €84,200, US$142,300, to
             2021, Saint-Cloud Prix Cleopatre, G3, Chantilly Prix de la Butte Blanche, 2d
             Gulfstream Park Orchid S., G3, ParisLongchamp Prix d'Aumale, G3, Gulfstream
             Park Via Borghese S., L, 3d Gulfstream Park The Very One S., G3, Belmont
             Jockey Club Oaks, L.
  TAJRIBA (f Teofilo) Winner at 11f in GB. Dam of-
      Wishfully (Invincible Spirit) Winner at 1600m, 2d ParisLongchamp Prix Casimir
           Delamarre, L, Deauville Morocco Cup, 3d Baden-Baden Cup, L, Cologne Preis
           de Casino Baden-Baden, L.
Stud record
Ghaiyyath's first crop are yearlings of 2023.
Pedigree notes
Is there a more glorious sight in horse racing than to see a bold front-runner "wearing his heart on his sleeve", daring his rivals to chase him down? Ghaiyyath did it time and again, putting his elite rivals to the sword in G1 races, in a manner reminiscent of his grandsire Dubai Millennium.

Apart from the wow factor about his style of racing, it is also a significant common factor in the makeup of successful sires. Whether they are sprinters, milers or stayers, it is hard to come up with a list of top sires that were not on-pace runners or leaders: Star Kingdom, Northern Dancer, Ribot, Redoute's Choice, Snitzel, I Am Invincible, Dubai Millennium, Street Cry, the list goes on.

Ghaiyyath maintained his blazing speed from 1,600m to 2,400m with multiple G1 winners such as Enable off the bit a long way from home chasing him.

Ghaiyyath is by Dubawi who broke the ice for Mr Prospector by winning the British General Sires' title in 2022. Following the Australian General Sires' title won by the Mr Prospector-line stallion Street Cry in 2015/16, breeders can have confidence in the suitability of stallions from this sire line for Australian conditions.

Dubawi shuttled to Australia for three seasons and didn't get the support his subsequent achievements show he deserved. Despite this, his results in Australia were truly outstanding.

From his Australian crops Dubawi sired 188 runners, 149 winners (79% winners to runners), 22 Stakes winners (11.7% Stakes winners to runners) and SIX G1 winners which were 3.2% of his runners and 27.27% of the Stakes winners. These are industry-leading stats, particularly for a stallion who had a big fee drop in his third and final year on the shuttle.
G1 Statistics
Dubawi has sired SIX individual G1 winners on the shuttle, two are out of Mr Prospector-line mares and one is out of a Star Kingdom-line mare from the Bletchingly branch.
The 53 individual worldwide G1 winners feature mares by most of the major commercial sire lines sent to him. They include mares from the Sadler's Wells/Galileo line, the Danzig/ Danehill line and the Mr Prospector/Machiavellian/Street Cry line.
20/53 have a return of Sadler's Wells in the mare.
23/53 have a return of Danzig in the mare.
24/53 have a return of Mr Prospector in the mare.
Best Nicks
Dubawi has sired 257 Stakes winners and has a decent strike rate with all 21 of the broodmare sires whose daughters have been sent to him in biggest numbers. This indicates his tremendous versatility which is a key reason for his success.

He has most individual Stakes winners out of mares by Galileo (11), Singspiel (10), Dansili (9), Green Desert (8), Montjeu (7), Sadler's Wells (6), Shamardal (6), Monsun (6), Danehill (5), Street Cry (5) and Giant's Causeway (5), who represent the major branches of current commercial sire lines. His highest percentages of Stakes winners to runners follow the same trend, the Northern Dancer and Mr Prospector lines both feature strongly.

Dubawi has over 20% Stakes winners to runners with mares by both Nureyev and his grandson Polar Falcon.

Young stallions often nick along the same lines as their sires especially if their own broodmare sire is compatible. These are all promising indicators for Ghaiyyath.
Inbreeding / Linebreeding options
Ghaiyyath is the product of two of the world's most successful crosses, the Dubai Millennium/Galileo cross and the Shirley Heights/Sadler's Wells cross.
The key names found in these crosses include the influential mares Special, Lalun, Where You Lead, Urban Sea and Allegretta, presenting numerous opportunities to plan successful inbreeding strategies.
Strategy One
Introduce the missing ingredient to complete the recipe, Danehill.
Dubawi's best results when crossed with the Danehill line include with mares by Dansili, Danehill Dancer, Rock Of Gibraltar and Danehill himself. Introducing Redoute's Choice has also had success.
Strategy Two
Ghaiyyath is bred on the very successful Dubawi/Galileo cross with both those stallions bred on a Northern Dancer/Mr Prospector/Buckpasser mix.
Another successful sire bred on a similar pattern is More Than Ready, so his daughters, or mares by his son Better Than Ready, or mares by Sebring (whose dam is by More Than Ready) would all suit Ghaiyyath.
Strategy Three
Another obvious strategy is to introduce Sadler's Wells' three-quarter brother Nureyev, creating inbreeding to the mare Special. This nick has already worked for Ghaiyyath's sire Dubawi and is worth replicating. There are numerous sources of Nureyev available, including a superior source via the great broodmare sire Zabeel whose dam is by Nureyev. Mares by his descendants such as Lonhro, Pierro and Savabeel, or their sons, are all suitable candidates. Star Witness is another source being from the Nureyev sire line himself.
Strategy Four
Ghaiyyath's sire has nicked well with mares by Shamardal and Street Cry so daughters of those two sires or their leading sons such as Lope de Vega, Street Boss and Per Incanto look worthwhile options.

Conformation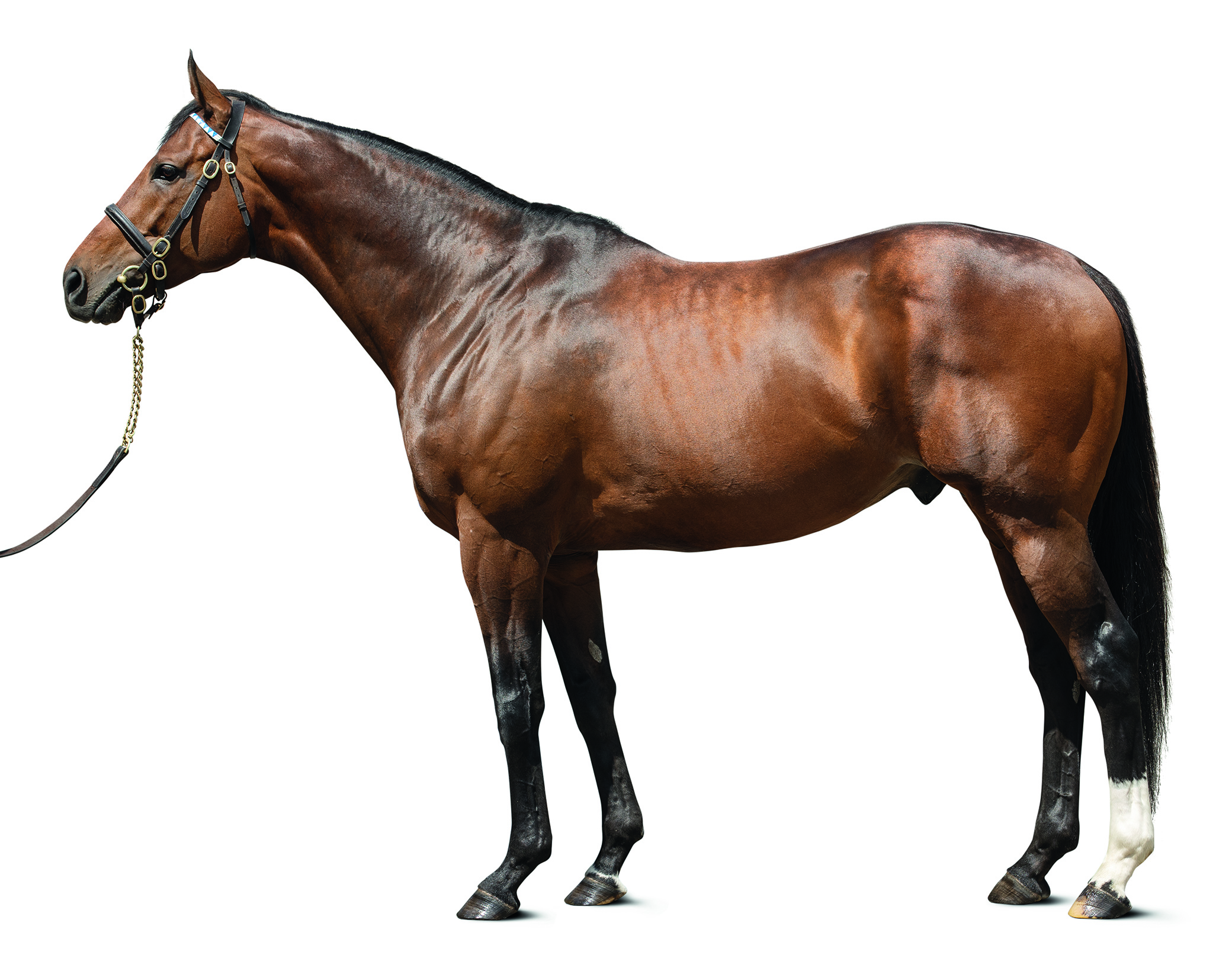 Race record
His successful career
| | | | | | |
| --- | --- | --- | --- | --- | --- |
| Age | Starts | 1st | 2nd | 3rd | Earnings |
| Two | 3 | 2 | - | 1 | £40,644 |
| Three | 1 | 1 | - | - | £35,606 |
| Four | 4 | 2 | - | 1 | £229,320 |
| Five | 5 | 4 | 1 | - | £585,630 |
| Total | 13 | 9 | 1 | 2 | £891,201 (A$1,732,873) |
At 2
1st

Autumn S (G3), 1,600m, Newmarket, new Stakes record 1:35.92, by 1¾l, beating Dream Today, Purser, Flag Of Honour, Arbalet, Wafy, Zabriskie.

1st

Maiden race, 1,600m, Newmarket, by 5l, beating Bombyx.
At 3
1st

Prix du Prince d'Orange (G3), 2,000m, Longchamp, by 3l, beating Sacred Life, Folamour, Chilean, Aviateur, Stage Magic, Willie John.
At 4 Champion older horse in Germany
1st

Grosser Preis von Baden (G1), 2,400m, Baden-Baden, by 14l, beating Donjah, Laccario, Colomano, Accon, Akribie, Ashrun, Communique.

1st

Prix d'Harcourt (G2), 2,000m, Longchamp, by 1½l, beating Soleil Marin, Intellogent, Lucius Tiberius, Volfango, Nocturnal Fox.

3rd

Prix Ganay (G1), 2,100m, Longchamp, to Waldgeist, Study Of Man, beating Soleil Marin, Intellogent.
At 5
1st

Juddmonte International S (G1), 2,100m, York, by 3l, beating Magical, Lord North, Kameko, Rose Of Kildare.

1st

Eclipse S (G1), 2,000m, Sandown Park, by 2¼l, beating Enable, Japan, Magic Wand, Deidre, Regal Reality, Bangkok.

1st

Coronation Cup (G1), 2,400m, Newmarket, new course record 2:25.89, by 2½l, beating Anthony Van Dyck, Stradivarius, Broome, Defoe, Alounak, Desert Encounter.

1st

Dubai Millennium S (G3), 2,000m, Meydan, by 8½l, beating Spotify, Privilegiado, Certain Lad, Desert Encounter, Royal Meeting.

2nd

Irish Champion S (G1), 2,000m, Leopardstown, to Magical, beating Armory, Sottsass, Japan, Leo de Fury.
Timeform 133
Video footage
Watch him go:
see him at his best
Juddmonte International S (G1), 10f, York, 19 Aug 2020
Coral-Eclipse S (G1), 10f, Sandown Park, 05 Jul 2020
Coronation Cup (G1), 12f, Newmarket, 05 Jun 2020
Grosser Preis von Baden (G1), 12f, Baden-Baden, 01 Sep 2019
Prix d'Harcourt (G2), 10f, Longchamp, 07 Apr 2019
Autumn S (G3), 8f, Newmarket, 14 Oct 2017
Prix du Prince d'Orange (G3), 10f, Longchamp, 22 Sep 2018
Dubai Millennium S (G3), 10f, Meydan, 20 Feb 2020
Maiden race, 8f, Newmarket, 28 Sep 2017
Special insights:
interviews, expert opinion and more
See the full playlist on YouTube