$16,500
Ch 2017 15.3HH (1.60M)
Shamardal – Winters Moon (New Approach)
Inc GST Payment on Live Foal (conditions apply). Standing at Northwood Park, VIC
Undefeated Champion Two-Year-Old by sire of sires Shamardal.
Ideally suited to Australia: dual G1-winning juvenile over 1,200m, recording five from five at two from 1,100m to 1,200m.
Produced a track-record time winning the G1 Middle Park Stakes over 1,200m at Newmarket Racecourse, and they have been racing there for over 350 years.
Perfect at two with the looks to back his speed.
Blistering
speed
, G1
precocity
and head-down
determination
combined with a
Classic
pedigree.
Pedigree
EARTHLIGHT

SHAMARDAL

GIANT'S CAUSEWAY

STORM CAT

STORM BIRD

TERLINGUA

MARIAH'S STORM

RAHY

IMMENSE

HELSINKI

MACHIAVELLIAN

MR PROSPECTOR

COUP DE FOLIE

HELEN STREET

TROY

WATERWAY

WINTERS MOON

NEW APPROACH

GALILEO

SADLER'S WELLS

URBAN SEA

PARK EXPRESS

AHONOORA

MATCHER

SUMMERTIME LEGACY

DARSHAAN

SHIRLEY HEIGHTS

DELSY

ZAWAAHY

EL GRAN SENOR

EXOTIC TREAT
SHAMARDAL (USA) (Bay 2002-Stud 2005).  6 wins-3 at 2, from 1200m to 2100m, Chantilly Prix du
Jockey Club, G1, Longchamp Poule d'Essai des Poulains, G1, Newmarket Dewhurst S., G1, York
St James's Palace S., G1, Goodwood Vintage S., G2. Champion sire. Sire of 1,425 rnrs, 1,060 wnrs,
166 SW, 74.3% winners, 11.6% Stakes winners inc. Earthlight, Blue Point, Pinatubo, Lope de Vega,
Victor Ludorum, Tarnawa, Pakistan Star, Able Friend, Speedy Boarding, Faint Perfume, Amaron, Zazou,
Crackerjack King, Lumiere, Dariyan, Dunboyne Express - Dan Excel (H.K.), Baltic Baroness, etc.
1st dam:
Winters Moon, by New Approach. Winner at 2, 3d Newmarket Fillies' Mile, G1, Sweet Solera S.,
     G3, Newbury Dubai Duty Free Golf World Cup S., 4th Salisbury Stonehenge S., L. Half-sister
     to MANDAEAN, WAVERING, Mister Green. Dam of 4 named foals, all raced, 2 winners inc:-
  EARTHLIGHT (c by Shamardal) 7 wins. Champion. See race record.
  Snowfinch (f by Dubawi) Winner at 1600m in 2023 in France.
  Callisto Moon (f by Shamardal) Placed at 3 in 2022 in GB.
2nd dam:
SUMMERTIME LEGACY, by Darshaan. 2 wins at 2, Deauville Prix des Reservoirs, G3, Saint-
      Cloud Prix Louqsor, 3d Longchamp Prix Saint-Alary, G1, Deauville Prix de Lieurey, L. Half-
      sister to Quiet Waters (dam of PAS DE SECRETS). Dam of 11 foals, 10 to race, 8 winners,
      inc:-
  MANDAEAN (Manduro) 3 wins-2 at 2-from 1600m to 2000m, £2,220, €154,850, 282,590Dhs
        in France and U.A.E, Criterium de Saint-Cloud, G1, Meydan Beach Trophy H., Longchamp
        Prix de Belleville.
  WAVERING (Refuse to Bend) 2 wins at 2000m, €171,850, Longchamp Prix Saint-Alary, G1,
        Prix de la Flandrie, 3d Saint-Cloud Prix Cléopâtre, G3. Dam of 6 winners-
     LIFE IN MOTION (Sea the Stars) 4 wins-1 at 2-from 1400m to 1800m, €111,940, to 2022,
             Saint-Cloud Prix Coronation, L, Chantilly Prix Le Fabuleux, L, Saint-Cloud Prix La
             Troienne, Prix Tenebreuse, 2d Chantilly Prix de Sandringham, Gr.2
     Flowrider (Street Cry) Winner at 1600m, Saint-Cloud Prix Parade d'Amour, 3d Chantilly Prix 
             Chloe, G3, 4th Longchamp Prix Saint-Alary, G1.
     Switching (Street Cry) Winner at 1800m, 2d Saint-Cloud Prix de Flore, G3, Chantilly Prix de
              Liancourt, L, Maisons-Laffitte Prix Charles Laffitte, L, 4th Chantilly Prix Finlande, L.
  Winters Moon (New Approach) Winner. See above.
  Mister Green (Green Desert) 5 wins-1 at 2-from 6f to 1¼m, 3d Lingfield Winter Derby Trial, L.
  Lavender and Lace. Unplaced. Dam of-
     Maxi Boy (Oasis Dream) Winner at 2, 3d Newmarket Superlative S., G2.
  Hurricane Irene. Unraced. Dam of-
     Johara (Iffraaj) 4 wins to 1300m, Chantilly Prix du Bat l'Eau, 2d Deauville Prix de la Calonne,
     L, Maisons-Laffitte Prix de la Pepiniere, L, 4th Lyon-Parilly Prix Andre Baboin, G3. Producer.
3rd dam:
ZAWAAHY, by El Gran Senor. Winner at 1m, 2d Sandown Aspects of Love S. Half-sister to
      GOLDEN FLEECE, OFFICE WIFE (dam of DANCE TREAT), Exotic Slew. Dam of 13
      foals, 11 to race, 7 winners, inc:-
  SUMMERTIME LEGACY (Darshaan) 2 wins. See above.
  Quiet Waters. Unplaced. Dam of-
     PAS DE SECRETS (High Chaparral) 6 wins from 1600m to 3200m in Norway and Sweden,
         Bro Park Songline Classic, L, 2d Ovrevoll Norsk Derby, L, 3d Ovrevoll Oslo Cup, G3.
   Lucy Cavendish. Unraced. Dam of-
        Caveran. 6 wins-1 at 2-to 1500m, Milan Premio Resia, Premio Canale Sella, Premio
             Presolana, 2d Milan Premio Bolkonski, Premio Gavia, 3d Milan Premio Sarca. Dam of-
          TELEPATIC GLANCES (Pride of Dubai) Champion 2YO Filly in Italy in 2020. 5 wins-3 at
                  2- to 1700m, €139,604, to 2022, Milan Premio Dormello, G2, Premio Coolmore, L.
Stud record
Earthlight's first crop are yearlings of 2023.
Pedigree notes
Early maturity combined with high-class speed is a combination that is one of the most reliable determinants of sire success. This applies particularly in Australia, look no further than the Golden Slipper to confirm the validity of this concept. Australian racing was revolutionised by another brilliantly fast chestnut two-year-old called Star Kingdom who sired the first Golden Slipper winner, Todman.
Earthlight's appearance resembles that of Shamardal's outstanding sire-son Lope de Vega, but more significantly his race videos show that he had a wonderful temperament as well as a high cruising speed. He was able to travel just behind the leaders in the best company, without pulling, then produce a decisive burst of acceleration at the rider's command, admirable qualities which he can pass on to his offspring.
Earthlight's sire Shamardal and his son Lope de Vega have clearly demonstrated that this sire line is well-suited to Australian conditions.
G1 Statistics
Shamardal has sired 27 G1 winners worldwide, including five in Australia. All five in Australia and 14 out of 27 have a return of Sir Gaylord or his half-brother in the mare. The Sir Gaylord sire line is prolific in Australia via Sir Tristram, Zabeel, Octagonal, Lonhro, Pierro, Savabeel, etc. Shamardal's son Lope de Vega has sired two of his four Australian G1 winners from just 14 runners out of mares by Danehill's son Fastnet Rock.
Best Nicks
Shamardal's most successful nicking stats are with mares from the major broodmare sire lines of Mr Prospector, Sadler's Wells and Danehill. Lope de Vega has similarly good results with mares from those broodmare sire lines. Shamardal is a grandson of Storm Cat and the Storm Cat/Mr Prospector crosses and reverse crosses have been some of the most successful in contemporary pedigrees.
Inbreeding / Linebreeding options
Earthlight's sire Shamardal is out of a full sister to leading sire Street Cry whose dam is the influential mare Helen Street. Inbreeding to Helen Street has resulted in over 11% Stakes performers to runners with Darley's multiple G1 winner Victor Ludorum the star act. Inbreeding to Helen Street using mares by Street Cry and sons is an appealing strategy. The broodmare sires in Earthlight's female line are in turn by the important broodmare influences Galileo, Darshaan and El Gran Senor. Inbreeding to their female lines presents some very interesting options for matings with Earthlight.
Strategy One
Inbreeding to Helen Street has already produced Darley's undefeated two-year-old Victor Ludorum and can be achieved using mares by sires such as Street Cry, Street Boss, Pride Of Dubai, Hallowed Crown, Territories, or with mares whose dam or second dam is by any of those sires. The Street Cry lines also provide the successful Shamardal/Mr Prospector nick.
Strategy Two
Earthlight's dam is by Galileo's son New Approach and mares carrying Nureyev, the three-quarter brother to Sadler's Wells, sire of Galileo, will provide inbreeding to the mare Special, one of the most successful nicks in modern pedigrees. Zabeel and his descendants Lonhro, Pierro and Savabeel are high-class sources of Nureyev blood.
Strategy Three
Earthlight's dam Winter's Moon is bred on the record-breaking Sadler's Wells/Shirley Heights cross which features inbreeding to the Blue Hen mare Lalun. This cross is successful in most variations of descendants of those two stallions, including the reverse crosses, and when another strain of either sire is added to the mix. More Lalun is never enough.
Strategy Four
Earthlight's third dam is by El Gran Senor whose dam Sex Appeal is a daughter of Blue Hen mare Best In Show. El Gran Senor's full brother Try My Best is the sire of Last Tycoon. As a result, Best In Show is both the second dam of Last Tycoon and fourth dam of Redoute's Choice, both champion Australian sires. Redoute's Choice has had his best results with Last Tycoon mares and a similar pedigree pattern can be created by sending mares by Redoute's Choice and sons, or Last Tycoon and his grandson, Written Tycoon, to Earthlight.
Strategy Five
Daughters of Fastnet Rock have produced two of the four Australian G1 winners by Shamardal's son Lope de Vega. Mares by Fastnet Rock, his sons, or from his Danehill sire line are worthwhile options.
Conformation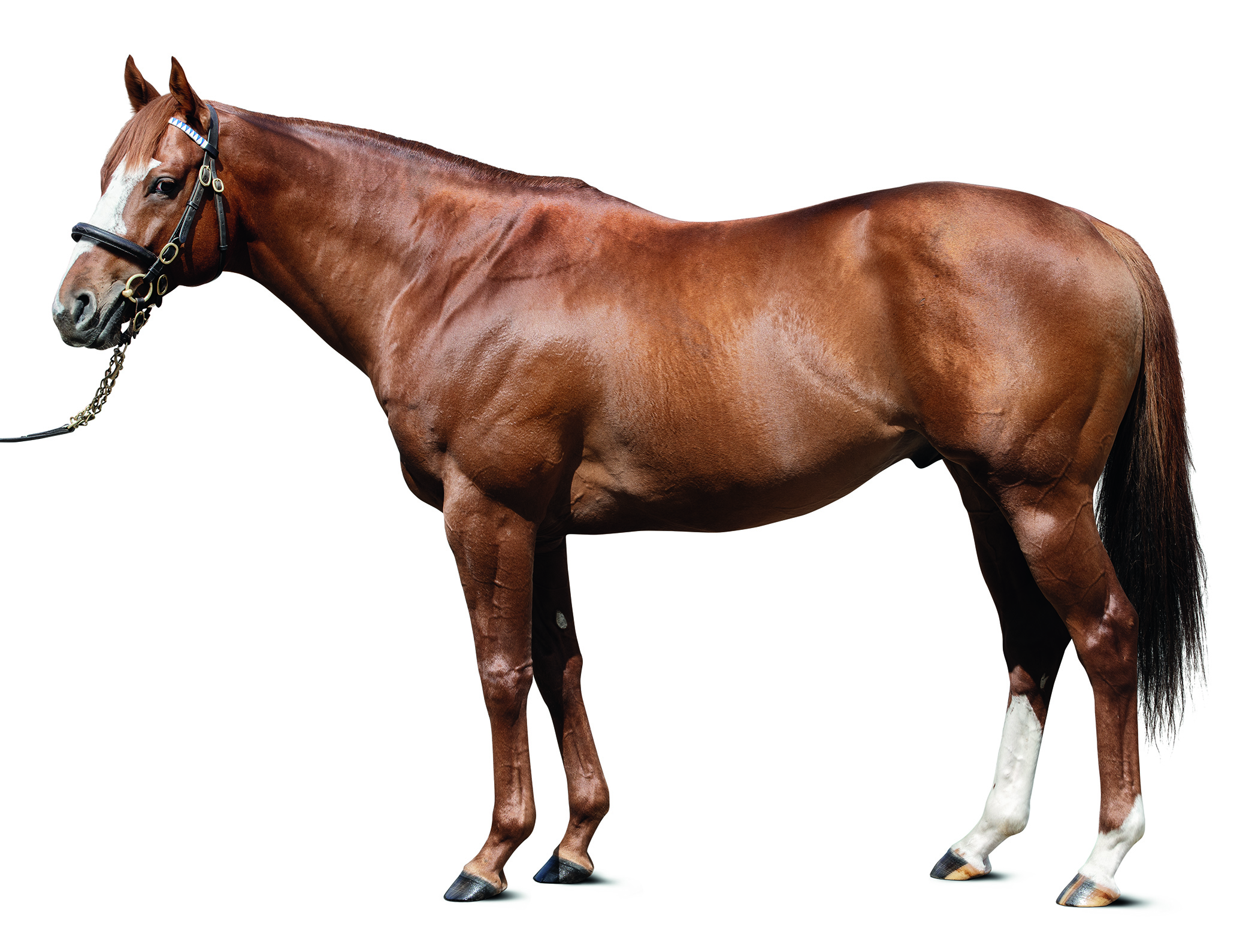 Race record
His successful career
| | | | | | |
| --- | --- | --- | --- | --- | --- |
| Age | Starts | 1st | 2nd | 3rd | Earnings |
| Two | 5 | 5 | - | - | £401,867 |
| Three | 4 | 2 | 1 | - | £98,288 |
| Total | 9 | 7 | 1 | - | £500,156 (A$972,515) |
At 2 Champion two-year-old colt in France
1st

Middle Park Stakes (G1), 1,200m at Newmarket, new juvenile course record 1:09.31, beating Golden Horde, Summer Sands, King Neptune, Threat, Lope Y Fernandez, Monarch Of Egypt.

1st

Prix Morny (G1), 1,200m at Deauville, beating Raffle Prize, Golden Horde, Arizona, A'Ali, Aroha, Royal Dornoch, Devil.

1st

Prix de Cabourg (G3), 1,200m at Deauville, by 4l, beating Well Of Wisdom, Dubai Station, Jolie.

1st

Prix de Caen, 1,200m at Deauville, by 3½l, beating Les Hogues, Alson.

1st

Prix Prince Bio, 1,100m at Maisons-Laffitte.
At 3
1st

Prix du Pin (G3), 1400m at Deauville, beating Tropbeau, Manjeer, Spinning Memories, Pretreville, Brave Shiina, Golden Boy, Restiany, Tammani.

1st

Prix Kistena, 1200m at Deauville, by 2½l, beating Wanaway, Crew Dragon, Jolie.

2nd

Prix de la Foret (G1), 1400m at Longchamp, by a neck, to One Master, beating Safe Voyage, Tropbeau, Rubaiyat, Irska, Spinning Memories, Toro Strike, Pretreville..

4th

Prix Maurice de Gheest (G1), 1300m at Deauville, to Space Blues, Hello Youmzain, Lope Y Fernandez, beating Golden Horde, Wooded, Wichita, Spinning Memories, Batwan.
Timeform 121
Video footage
Watch him go:
see him at his best
Middle Park Stakes (G1), 6f, Newmarket, 28 Sep 2019
Prix Morny (G1), 6f, Deauville, 18 Aug 2019
Prix de Cabourg (G3), 6f, Deauville, 28 Jul 2019
Prix du Pin (G3), 7f, Deauville, 13 Sep 2020
Prix de Caen, 6f, Deauville, 02 Jul 2019
Prix Prince Bio, 5½f, Maisons-Laffitte, 19 Jun 2019
Special insights:
interviews, expert opinion and more
See the full playlist on YouTube