B 2000 16.1HH (1.65M)
By Danehill – Patrona (Lomond)
$110,000
Inc GST Payment on Live Foal (conditions apply), Standing at Kelvinside
The preeminent Australian stallion for two-year-old speed, precocity and class and Australia's Champion sire of 2012/13. Sire of record-breaking G1 winner Helmet and G1-winning miler Excelebration, plus top fillies Overreach, Guelph and Earthquake.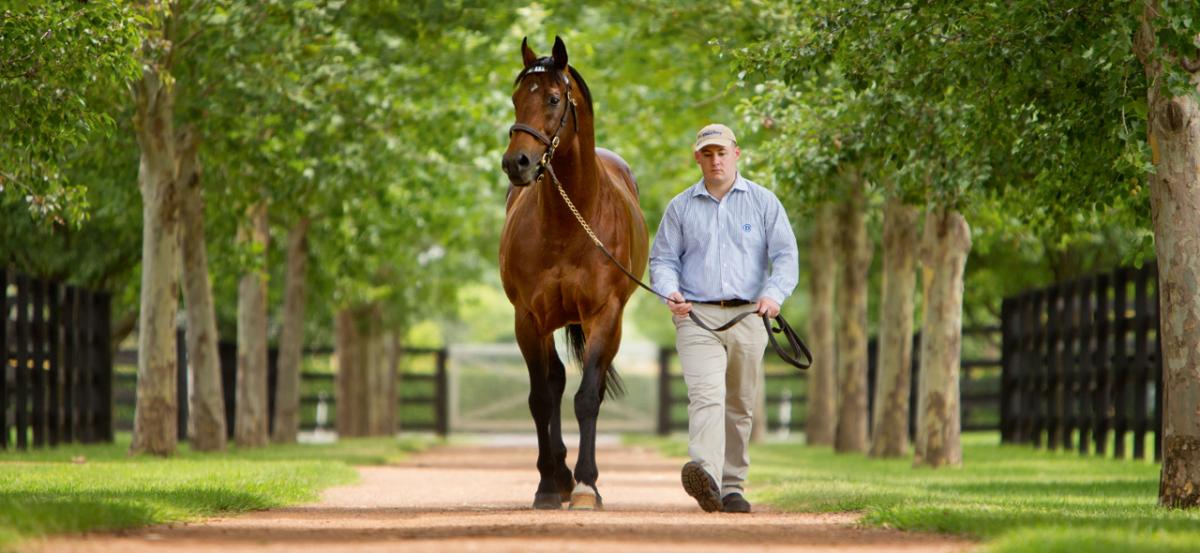 EXCEED AND EXCEL

DANEHILL

DANZIG

NORTHERN DANCER

NEARCTIC

NATALMA

PAS DE NOM

ADMIRAL'S VOYAGE

PETITIONER

RAZYANA

HIS MAJESTY

RIBOT

FLOWER BOWL

SPRING ADIEU

BUCKPASSER

NATALMA

PATRONA

LOMOND

NORTHERN DANCER

NEARCTIC

NATALMA

MY CHARMER

POKER

FAIR CHARMER

GLADIOLUS

WATCH YOUR STEP

CITATION

STEPWISELY

BACK BRITCHES

CARRY BACK

FOXBRITCHES
By DANEHILL (1986) Ladbroke Sprint S (G1), etc. Leading sire 17 times in Australia, England, France, Hong Kong and Ireland. Sire of 2,501 foals aged three and up, including EXCEED AND EXCEL, CACIQUE, CLODOVIL, DANEHILL DANCER, DESERT KING, DUKE OF MARMALADE, DYLAN THOMAS, FASTNET ROCK, FLYING SPUR, GEORGE WASHINGTON, HOLY ROMAN EMPEROR, ORATORIO, REDOUTE'S CHOICE, ROCK OF GIBRALTAR, TIGER HILL, etc.
1st dam: PATRONA by Lomond. Winner at 3. Dam of 5 foals, 5 to race, 5 winners:
EXCEED AND EXCEL (c Danehill) Champion, see Race record.
ENEMY OF AVERAGE (c Fusaichi Pegasus) Winner at 2, Walter Brown S.
Open Magnet (g Honour And Glory) 11 wins, 2 to 5, 2nd Clasico Princesa del Oro.
TO BE SURPRISED (f Redoute's Choice) 3 wins at 3 and 4. Dam of:
Will Be Amazed (g Husson) 3rd Macau Summer Trophy.
2nd dam: GLADIOLUS by Watch Your Step. 17 wins, 3 to 6, Interborough H (G3), First Flight H, Petrify H, Miss Prosperity H, Ak-Sar-Ben Queen's H, 2nd Barbara Fritchie H (G3). Dam of 7 winners:
STYLISH SENOR (c El Gran Senor) 6 wins, Gordon S (G3). Sire.
SWAMP KING (c Vice Regent) 12 wins, Highlander S. Sire.
DRAMATIS (c Spectacular Bid) 3 wins, Prix Servanne.
DAZZEL'N DECEPTION (f Storm Cat) Winner at 2. Dam of:
SHINKO RUBY (f Sakura Laurel) Sho Flora S (G2), 3rd Yushun Himba (G1).
| | | | | | |
| --- | --- | --- | --- | --- | --- |
| Age | Starts | 1st | 2nd | 3rd | 4th |
| Two | 4 | 2 | 1 | - | - |
| Three | 8 | 5 | - | - | - |
| Total | 12 | 7 | 1 | - | - |
At 2
1st

Todman Slipper Trial (G2), 1200m, Rosehill, beating Untouchable, Niello, Red Hot Pepper.

1st

Maiden race, 1100m, Canterbury, first time out.

2nd

Black Opal S (G3), 1200m, Canberra, by a head, to Handsome Ransom, beating Sansadee, Touched By God.
At 3 Champion Sprinter in Australia
1st

Newmarket H (G1), 1200m, Flemington, beating Titanic Jack, Regimental Gal, Nader.

1st

Dubai Racing Club Cup (G1), 1400m, Caulfield, new course record, beating Reactive, Titanic Jack, Scardee Cat.

1st

Up And Coming S (G2), 1200m, Randwick, beating Danbird, Hipwell, Kusi.

1st

Royal Sovereign S (G2), 1180m, Kensington, new course record, beating Ambulance, Impaler, Handsome Ransom.

1st

Roman Consul S (G3), 1200m, Randwick, beating Hasna, Ambulance, Bushland.
Timeform 126
Newmarket H (G1), 1200m, Flemington, 06 Mar 2004
Exceed And Excel filly surges to an impressive Stakes victory at Randwick
Exceed And Excel appears to have another talented two-year-old on his hands as his daughter Calliope overcame an indifferent